Empowering Saudi Women: The Waeya Initiative Combats Domestic Violence, Upholding Saudi Women's Rights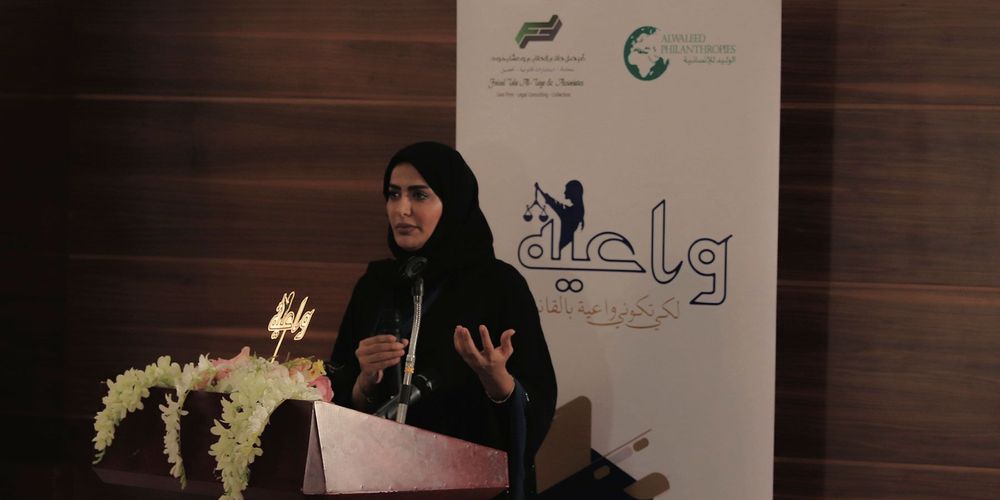 Beneficiaries
**Up to date ** More than 42,200 Women
In 2022
100 female lawyer.
1000 Cases and 150 Consultation
5 Rural villages
In partnership with



The Waeya Initiative Redefining Legal Education and Support
In a remarkable leap towards recognizing the boundless potential of women and their indispensable role in shaping society, a groundbreaking initiative known as the Waeya Initiative has emerged in Saudi Arabia. The initiative has multiple aspects that aim to spread legal awareness and knowledge widely. It provides a strong voice for women dealing with violence, abuse, and other issues. Additionally, it supports female lawyers in problem-solving, litigation, and developing legal skills. Moreover, the initiative pioneers the use of technology by creating an interactive app for free legal consultations, bridging the gap between people seeking help and legal experts. Its impact extends beyond cities as it recognizes the importance of raising legal awareness in villages, striving to educate people about their fundamental rights even in remote areas.
Collaborative Partnerships: Paving the Way for Change
The Waeya Initiative has set forth several key objectives to advance its mission. These include laying the foundations of women's legal education to enhance legal awareness and knowledge within society, training female lawyers, addressing cases related to women, violence, and cyber-crimes, and helping women improve their quality of life by promoting rights and duties awareness.
Collaboration is crucial to the success of the initiative. The Waeya Initiative works in partnership with Faisal Al-Tayea law firm, the Human Rights Commission, Ministry of Labor and Social Development, represented by the Care and Hospitality Department for Girls, and the Saudi Data and Artificial Intelligence Authority (SDAIA). Through these collaborations, the initiative harnesses collective expertise and resources to drive positive change.
Milestones of Empowerment
Between 2022 and 2023, a project dedicated to empowering Saudi women achieved remarkable progress. Through collaborative efforts with the United Nations High Commissioner for Human Rights, the project organized empowering courses for a hundred female lawyers. Renowned speakers in the field contributed to the courses, enhancing the learning experience and equipping the participants with valuable knowledge in human rights, treaties, and international agreements. The initiative had a significant impact on the lives of its beneficiaries. It conducted training programs for 100 female lawyers, equipping them with valuable legal skills and knowledge. Moreover, the initiative successfully handled 150 cases, offering support and guidance to individuals facing various legal issues. Additionally, it provided a staggering 10,000 consultations, ensuring that people had access to the necessary legal advice and assistance. The initiative also focused on reaching out to rural villages, targeting five communities to spread legal awareness and provide support where it is often lacking.
Collaborative Support: A Unified Front
Partnerships formed the cornerstone of success. Notably, the collaboration between Prince Sultan City, and Alwaleed Philanthropies addressed the critical issue of domestic violence by providing psychological support to victims through the Waeya Initiative. Multiple meetings were held, forging a unified front in combating this grave societal concern.
Legal Empowerment: Reaching rural villages
The project extended its reach beyond urban landscapes by partnering with the Asir Development Authority and the Waeya Initiative. Together, they embarked on a journey through various villages, identifying suitable locations for the Waeya Legal Empowerment.
Harnessing Technology: Protecting Data, Empowering Lawyers
Recognizing the growing importance of data protection and information security, Alwaleed Philanthropies forged an ongoing partnership with the Saudi Data and Artificial Intelligence Authority (SDAIA). Specialized training courses were organized, empowering female lawyers with the knowledge to navigate the complex realm of data and privacy.
Fighting for Justice: Cases and Consultations
The project's impact reverberated through the lives of countless women. The adoption and support of 350 cases involving victims of violence, abuse, fraud, and cybercrime showcased their unwavering dedication to justice. With compassion and expertise, they provided consultations to 3,000 individuals, addressing their legal concerns and guiding them towards a brighter future.
Building Awareness: Workshops and Programs
Awareness played a crucial role in the project's success. Numerous training workshops were conducted, enlightening communities about their legal rights and avenues for support. Furthermore, a dedicated course for front-line staff in the Domestic Safety Program bolstered their capabilities in handling reports of violence and abuse, ensuring a swift and empathetic response.
As the project continues its transformative journey, it stands as a testament to the power of collaboration, knowledge, and unwavering dedication in empowering Saudi women and paving the way for a more just and inclusive society.
Karima's Triumph: A Story of Empowerment and Liberation
Karima's journey began when she made the courageous decision to seek refuge at the Guesthouse Community, desperate to escape the relentless verbal and physical violence inflicted upon her by her ex-husband. With two precious children to protect, Karima knew she had to find a way out.
Years passed as she sought solace within the walls of the Guesthouse, each day filled with uncertainty and fear. However, a glimmer of hope appeared when her case was referred to the esteemed lawyer's office. It was here that the transformative power of the Waeya initiative, supported by Alwaleed Philanthropies, came into play.
Through the unwavering support and guidance provided by the Waeya initiative, Karima's life took a remarkable turn. She gained the tools and knowledge necessary to navigate the legal complexities of her situation. When her ex-husband discovered her presence at the Guesthouse, he demanded to visit. However, his encounters with Karima were filled with anger. But Karima stood firm, unwavering in her commitment to build a better life for herself and her children.
As she reflects upon her incredible transformation, Karima expresses her profound gratitude to God and the Waeya initiative. Their unwavering support and intervention have been instrumental in liberating her from the shackles of her past. She prays for the greatest of rewards to be bestowed upon those who played a part, no matter how small, in rescuing her from the depths of her previous suffering.