DGDA Signs MoU With Alwaleed Philanthropies to Support Crafts, Volunteering, and Cultural Identity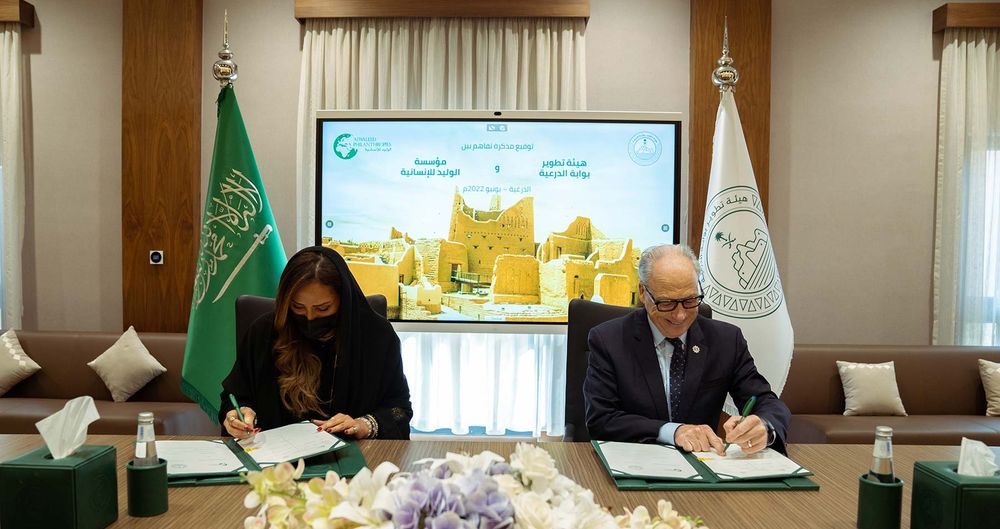 The Diriyah Gate Development Authority (DGDA) and Alwaleed Philanthropies have signed a Memorandum of Understanding (MoU) to cooperate in the support of crafts and craftspeople in every field, encouraging volunteering and the preservation of cultural identity.
The MoU was signed by Her Royal Highness Princess Lamia Bint Majed Al Saud, Secretary-General of Alwaleed Philanthropies, and Jerry Inzerillo, CEO of the Diriyah Gate Development Authority.
The two organizations will work together to provide training for craftspeople and support for local products and creators. The collaboration was born from a mutual understanding of the importance of working together in ways that will help both parties accomplish their objectives.
HRH Princess Lamia commented by saying that the cooperation further solidifies the importance of preserving heritage and cultural identity, and that the two organizations would work together on a series of initiatives and events to build capabilities in the arts and culture domain, in addition to coordinating on media coverage and marketing initiatives. Her Royal Highness also expressed her pride in collaborating with DGDA to preserve the heritage and serve the local community based on the keenness of Alwaleed Philanthropies through its comprehensive programs to contribute to supporting the social work system and serving Saudi citizens.
Mr. Inzerillo further highlighted the MoU's significance in the support of volunteering and social services, pointing out that both entities are set to cooperate on a range of initiatives such as youth empowerment in volunteerism and community service together and other areas of common interest.
He added that the cooperation is aligned with DGDA's strategies and ambitious goals to serve local development, preserve the cultural heritage of Diriyah while showcasing the authenticity of its civilizational heritage and deepen the social development impact by helping the local community through the infrastructure, services, and facilities the Authority is creating as part of the Diriyah Gate projcet.