Alwaleed Philanthropies' "Global" Initiative: Fostering New Green Jobs to Improve Life Quality of Young Farmers and Alleviate Poverty in Sub-Saharan Africa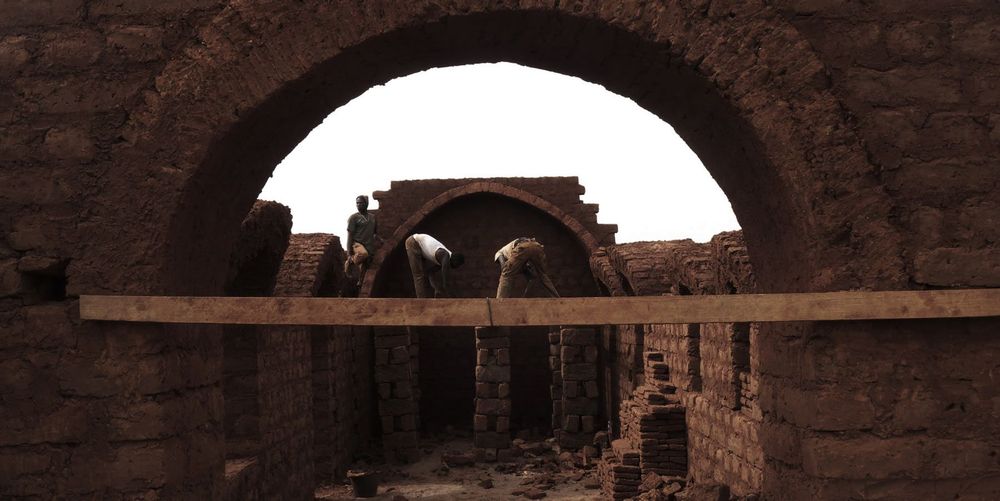 Reshaping Sub-Saharan Africa
In the vast expanse of Sub-Saharan Africa, where poverty and limited resources often hinder development, our partnership with The Nubian Vault is working on making a remarkable difference. Alwaleed Philanthropies' "Global "partnered with The Nubian Vault Association, a non-profit, spearheading a sustainable construction revolution in the region. Their innovative houses, known as Nubian Vaults (NV), are constructed entirely from the earth, providing a cost-effective and eco-friendly alternative to traditional building methods. The association's project, "Fostering New Green Jobs to Improve Life Quality of Young Farmers and Alleviate Poverty in Sub-Saharan Africa," is already yielding promising results.
Empowering Communities and Preserving Resources
Alwaleed Philanthropies' "Global "project's primary goals are twofold: to create local job opportunities during the agricultural off-season and to train masons in the Nubian Vault sustainable construction technique while emphasising the preservation of natural resources. Spread across five countries, including Burkina Faso, Mali, Benin, Ghana, and Senegal, the project has been ongoing since 2020 and is slated to conclude in 2023.
Building a Sustainable Legacy: Impressive Environmental, Economic, and Social Impact of the NV Project in 2022
The accomplishments of the project in 2022 alone have been significant, leaving a lasting impact on both the environment and local communities. In terms of environmental benefits, the use of NV construction has saved an impressive 3,700 trees, contributing to the preservation of vital forest resources. Moreover, an estimated 21,194 tons of CO2 equivalent emissions have been saved, mitigating the project's carbon footprint and promoting sustainable practices.
The economic impact of the project has been equally remarkable. Through training and employment opportunities in NV masonry, the project has enabled 1,325 farmers to earn additional revenue during the agricultural off-season. The total revenue generated and reinvested in the local economy amounts to a substantial $721,000, fostering economic growth and supporting sustainable development at the grassroots level.
The project has had a profound social impact on the lives of the beneficiaries. By constructing Nubian Vaults, 895 families now reside in healthier houses with improved thermal and sound insulation. These houses provide a more comfortable living environment while reducing energy consumption, which in turn lowers household expenses. This improved quality of life uplifts the spirits of the beneficiaries, empowering them to strive for a better future.
The success of the Nubian Vault project lies in its holistic approach. The project addresses both environmental and socioeconomic challenges in Sub-Saharan Africa by combining sustainable construction techniques, job creation, and local capacity building. Not only does it provide an innovative solution to affordable housing, but it also creates green jobs, empowers local communities, and alleviates poverty.
Building a Greener and Prosperous Future:
Looking forward, the Nubian Vault Association aims to expand its impact further, reaching more communities and countries in need. The project serves as a model for sustainable development, demonstrating how an organization's commitment to environmental stewardship and community empowerment can drive positive change. With ongoing efforts, the Nubian Vault Association and its partners will continue to build a greener, more prosperous future for Sub-Saharan Africa, one Nubian Vault at a time.
Sidiki Sougue's Journey to Success: Embracing the Nubian Vault Construction Technique
Sidiki Sougue, a skilled builder hailing from a region where collapsing homes and limited resources hinder progress, has witnessed a transformative change in his career thanks to the Nubian Vault Project. In an area where people struggle to rebuild their homes due to a lack of materials, the incentives offered by the association have opened up new possibilities.
Previously engaged in building houses using concrete blocks, Sidiki made a life-altering decision to become a Nubian Vault builder, attracted by the numerous advantages offered by this innovative construction technique. The Nubian Vault method not only provides a cost-effective alternative but also promotes sustainability and environmental preservation.
Since embracing the Nubian Vault construction technique, Sidiki's professional life has flourished. He now finds himself with an abundance of work, enjoying the security and freedom that come with it. In addition to his building responsibilities, Sidiki has also taken on the role of a construction trainer, sharing his expertise with aspiring builders and contributing to the growth and development of the market.
Sidiki Sougue's story is a testament to the transformative power of the Nubian Vault Association and its impact on individuals and communities. By providing training, incentives, and fostering a sustainable construction approach, the project has not only improved the quality of life for builders like Sidiki but also contributed to the overall growth and development of the construction sector in the region.
Through stories like Sidiki Sougue's, the Nubian Vault Association's mission to promote sustainable housing and empower local builders is realized. With their ongoing efforts, they are driving positive change and transforming lives, one Nubian Vault at a time.