ICESCO and Alwaleed Philanthropies "Global" Join Forces to Launch a Humanitarian Program Strengthening Community Health Systems in Africa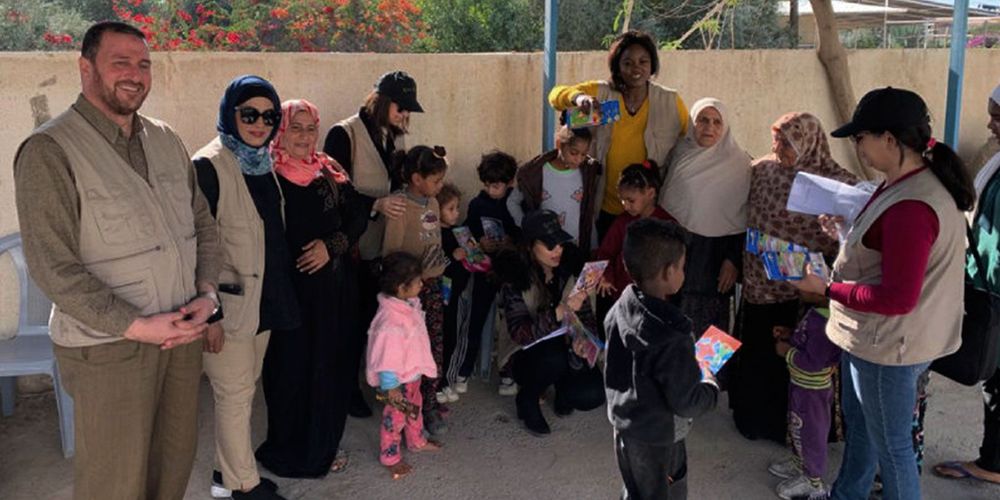 In a remarkable display of solidarity, ICESCO (Islamic World Educational, Scientific, and Cultural Organization) and Alwaleed Philanthropies' "Global '' Humanitarian Program emerged as a ray of hope during the Covid-19 pandemic. Operating from 2015 to 2020, with a dedicated focus on Covid-19 response in 2020, this program aimed to address the dire humanitarian situation in Africa. By establishing five caravans across Morocco, Senegal, Côte d'Ivoire, Niger, and Burkina Faso, ICESCO and Alwaleed Philanthropies "Global '' aimed to strengthen national response capacities and provide essential medical and protective equipment to vulnerable populations affected by the pandemic.
Objectives Centred Around Health System Resilience
With a comprehensive approach, the program focused on achieving several critical objectives, all aimed at enhancing the resilience of health and community systems:
Strengthening Early Warning and Care Strategies
Recognizing the significance of early warning and prevention, the program sought to bolster health systems' capabilities in this regard. By investing in improved strategies, communities could be better prepared to respond to health crises promptly and effectively.
Enhancing Community Monitoring and Early Care
Empowering communities with the tools and knowledge to monitor, warn, and provide early care formed another crucial objective of the program. By establishing community-based systems, the initiative aimed to ensure the swift identification and management of potential health threats.
Developing an Advanced Community-Based Strategy
In the face of the Covid-19 pandemic, the program sought to develop and implement an advanced community-based strategy. This strategy aimed to equip communities with the necessary skills and resources to handle potential coronavirus cases, thereby minimising the spread of the virus and maximising care outcomes.
Supporting the Social Solidarity Economy Amidst Crisis
The Global Humanitarian Program also recognized the impact of containment and social distancing measures on the local social solidarity economy. To address this, the program provided targeted support to affected individuals, favouring them in the provision of donated products. This approach aimed to alleviate their loss of income and mitigate the economic repercussions of the pandemic within communities.
Learning and Transforming Through an Observatory
Capitalising on the unique circumstances presented by the pandemic, the program aimed to facilitate institutional learning. By establishing an observatory, ICESCO and Alwaleed Philanthropies "Global" created a platform for analysis, monitoring, and warning regarding the social transformation resulting from social distancing and isolation measures. This observatory focused on studying the disruption of social bonds and emerging models of relational practices, enabling the development of informed strategies for the future.
Partnership with ICESCO and Achievements
ICESCO, renowned for its commitment to education, science, and culture, was a pivotal partner in the Global Humanitarian Program. Together, ICESCO and Alwaleed Philanthropies achieved notable milestones, providing essential support and resources to communities in need.
Distribution of Hand Washing Materials and Protective Equipment:
In an effort to promote proper hygiene practices, the program distributed hand washing materials to affected communities. This initiative played a vital role in preventing the spread of the virus and ensuring the health and safety of community members.
Hospitals, health centres, schools, prisons, and orphanages received critical protective equipment, including masks, surgical gloves, hydroalcoholic gels, thermometers, and more. By equipping these institutions, the program aimed to safeguard both healthcare workers and vulnerable populations.
Strengthening Local Capacities:
Through targeted support for women and youth groups, the program facilitated the production of community-based hygiene products. This initiative not only enhanced hygiene practices but also empowered these groups to actively contribute to the well-being of their communities.
Provision of Medical Consumables and Equipment:
Recognizing the increased demand for medical supplies, the program provided healthcare facilities with essential medical consumables, drugs, and equipment. This support aimed to strengthen the healthcare infrastructure and improve patient care outcomes.
The ICESCO & Alwaleed Philanthropies' Global Humanitarian Program stands as a testament to the power of collaboration and compassion. Through their concerted efforts, ICESCO and Alwaleed Philanthropies successfully strengthened community health systems in Africa, especially during the challenging times brought about by the Covid-19 pandemic. By focusing on health and education, the program made a tangible difference in the lives of thousands, ensuring better healthcare outcomes and fostering resilience within vulnerable communities.