HRH Princess Lamia Bint Majed Al Saud addresses urban sustainability challenges on World Habitat Day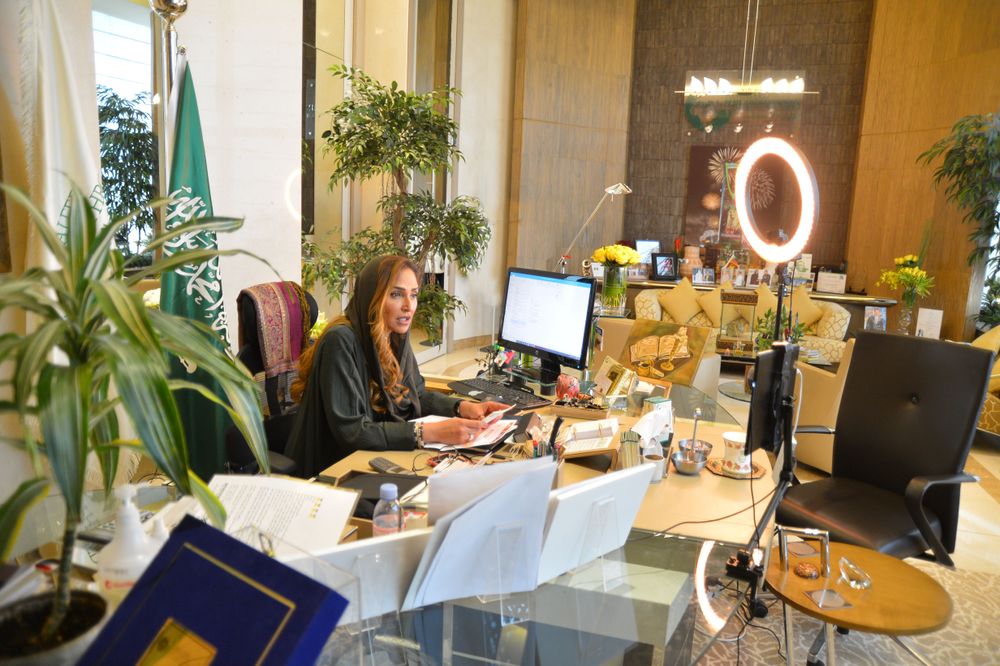 October 2020, Riyadh: HRH Princess Lamia Bint Majed Al Saud, Secretary General of Alwaleed Philanthropies "Global", chaired by His Royal Highness Prince Alwaleed Bin Talal Bin Abdulaziz AlSaud, joined the Global Observance of the World Habitat Day, organized by the United Nations Human Settlements Programme (UN-Habitat) on October 4th-6th, 2020. The event, themed 'Housing for All: A Better Urban Future', was hosted by the city of Surbaya, Indonesia and focused on the importance of providing housing to vulnerable communities most severely affected by the pandemic crisis around the world.
The event was attended by His Excellency President Joko Widodo of Indonesia; His Excellency President Iván Duque Márquez of Colombia; UN Secretary-General Antonio Guterres; Executive Secretary of the UN Economic and Social Commission for Asia and the Pacific, Armida Salsiah Alisjahbana; UN-Habitat Executive Director Maimunah Mohd Sharif, and ministers, senior officials and representatives from a broad range of countries, including Azerbaijan, Bangladesh, Colombia, Costa Rica, Finland, France, Indonesia, Kenya, Mexico, Poland, Rwanda, Sierra Leone, South Africa, the UAE and UK.
HRH Princess Lamia bint Majed Saud Al Saud, Secretary General of Alwaleed Philanthropies "Global", said: "It gives us great pleasure to be part of this event on World Habitat Day as it presents the opportunity to engage in a global discussion on the significant impact of Covid-19 on the housing sector, and its damaging effects on the existing societal and economic divides. The pandemic has been particularly devastating in poor and densely populated urban areas. Globally, 1 billion people are estimated to be living in slums, informal settlements, and in inadequate housing, and 2.4 billion people lack adequate access to safe water and sanitation. With the support of UN-Habitat and partners, concerted efforts are underway to support local governments, provide community driven solutions and offer adequate homes and shelters in these areas, but more needs to be done."
"At Alwaleed Philanthropies "Global", we have worked tirelessly inside and outside Saudi Arabia to provide better housing support for vulnerable local communities, while offering professional training and social development programs to help underprivileged members of these communities access the labor market, cope with the many challenges they face and improve their standard of living," HRH Princess Lamia concluded.
In February, HRH Princess Lamia was appointed as the first ever Regional Goodwill Ambassador for the Arab States by UN-Habitat at the tenth session of the World Urban Forum, in recognition of her advocacy for sustainable urbanization and determination to help address urban challenges in the Arab world. For four decades, Alwaleed Philanthropies "Global" has supported and spent more than 4 billion dollars on social welfare and initiated more than 1000 projects in over +189 countries, managed by 10 Saudi female members, reaching more than 1 billion beneficiaries around the world, regardless of gender, race, or religion. Alwaleed Philanthropies "Global" collaborates with a range of philanthropic, governmental, and educational organizations to combat poverty, empower women and youth, develop communities, provide disaster relief, and create cultural understanding through education. It seeks to build bridges for a more compassionate, tolerant, and accepting world.