MOU between Alwaleed Philanthropies "Global" & ICESCO to help 10 African countries as part of anti-COVID-19 initiatives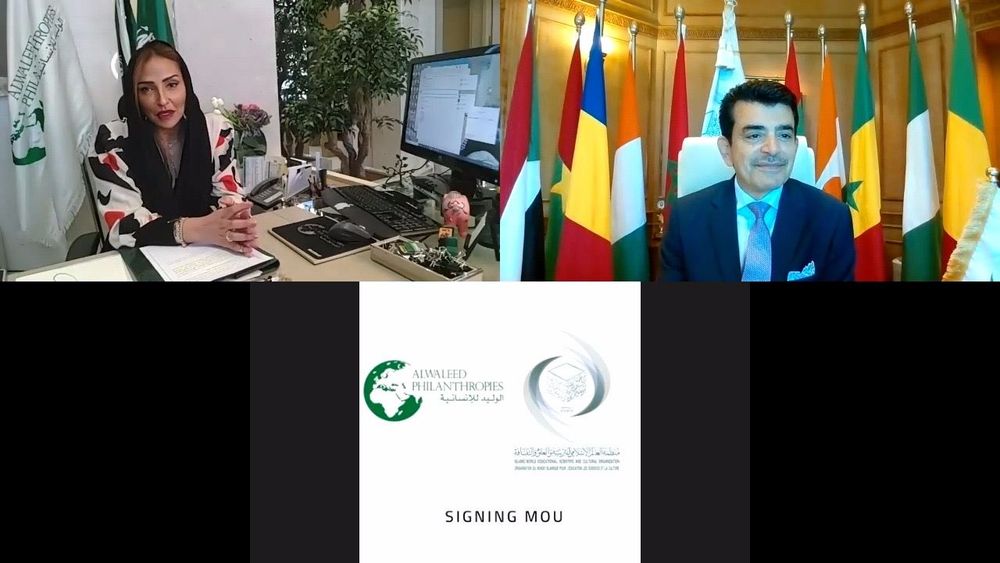 Alwaleed Philanthropies "Global", chaired by HRH Prince Alwaleed Bin Talal Al Saud, and The Islamic World Educational, Scientific and Cultural Organization (ICESCO) signed a memorandum of understanding (MoU) on the phases and programme related to implementing the joint initiative to help 10 countries address the adverse repercussions of the COVID-19 pandemic. The initiative entails humanitarian aid to the needy categories, capacity-building in the production of sanitizers and protective equipment to prevent the transmission of the COVID-19 pandemic, and support to the private sector and women and youth entrepreneurs.
Following the signature of the MoU during the virtual ceremony held on Tuesday, H.R.H. Princess Lamia Bint Majed Saud AlSaud, Secretary General of Alwaleed Philanthropies "Global", said "we are proud of our partnership with ICESCO marked by many years of humanitarian initiatives to meet the urgent and long-term needs of the neediest categories around the globe. This initiative will empower women and young entrepreneurs by making them assume the principal role in the fight against Coronavirus".
For his part, Dr. Salim M. AlMalik, ICESCO Director General, expressed the honor of ICESCO to collaborate with Alwaleed Philanthropies "Global" in support the most vulnerable and marginalized people in Africa and across the Islamic world.
"His R.H Prince Alwaleed Ibn Talal, has always been a champion for this noble cause, we look forward to strengthening our collaboration with Alwaleed Philanthropies "Global" as an icon for others to follow" added Dr. AlMalik.
The MoU stipulates that Alwaleed Philanthropies "Global", over a period of one year, provide 2,090,000 US dollars in aid to contribute to the efforts of addressing the repercussions associated with the COVID-19 pandemic in Niger, Senegal, Morocco, Burkina Faso, Chad, Mali, Nigeria, the Sudan, Mauritania, and Cote d'Ivoire.
The initiative seeks to provide food assistance to the neediest populations and most affected by the pandemic, most notably centers of elderly care, people with disabilities, and women victim of violence, orphanages, refugee centers and patients in health centers and hospitals. It also aims to build local capacities in the production of sanitizers and protective equipment (gels, protective masks, ventilators) through prioritizing and empowering men and women entrepreneurs in local informal sectors.
The two parties agreed to set up an implementation schedule to be attached to the MoU and a code of conduct for media outreach specific to the partnership. In this regard, the MoU stipulates that ICESCO prepare a quarterly report about the implementation of the project in each of the target countries and a detailed one at the end of the implementation, on the most important innovative initiatives with photos of production units and recorded testimonials of some beneficiary citizens.
For 4 decades, Alwaleed Philanthropies "Global" has supported and spent more than 4 billion dollars on social welfare and initiated more than 1000 projects in over +189 countries, managed by 10 Saudi female members, reaching more than 1 billion beneficiaries around the world, regardless of gender, race, or religion. Alwaleed Philanthropies "Global" collaborates with a range of philanthropic, governmental, and educational organizations to combat poverty, empower women and youth, develop communities, provide disaster relief and create cultural understanding through education. It seeks to build bridges for a more compassionate, tolerant, and accepting world