Alwaleed Philanthropies "Global" supports ICESCO to launch Covid-19 initiatives across Africa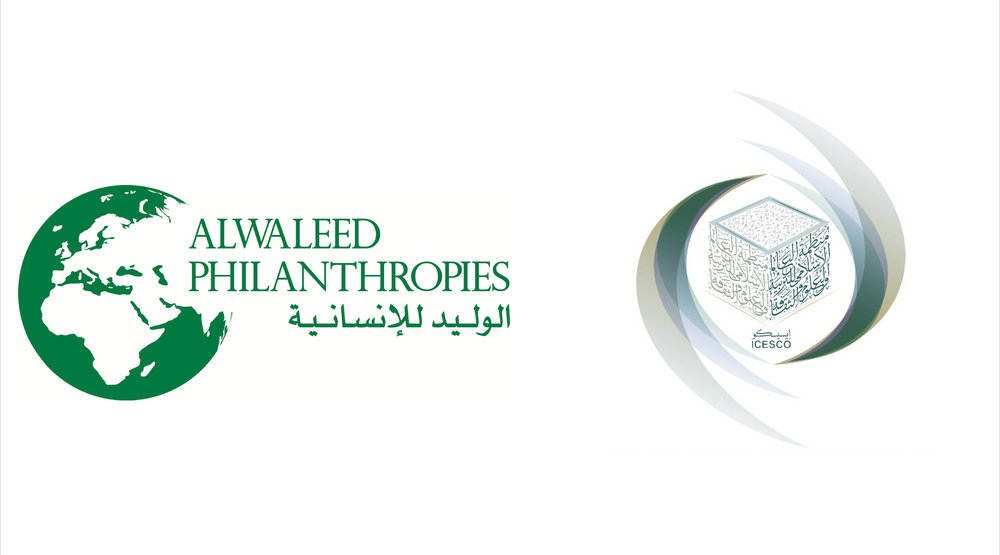 Alwaleed Philanthropies "Global", chaired by HRH Prince Alwaleed Bin Talal Al Saud, and the Islamic World Educational, Scientific and Cultural Organization (ICESCO) have announced the launch of a Covid-19 response initiative in the Ivory Coast. The initiative will provide food supplies and hygienic products to vulnerable communities in affected areas as part of the emergency humanitarian response to the pandemic.
The launch will be marked by an event on 25th June 2020 with the presence of HE Adama Diawara, Minister of Higher Education of Ivory Coast and President of ICESCO national commission in Cote d'Ivoire, Didier Drogba, award-winning footballer who will be represented by the team of his Foundation.
Emphasizing the importance of the initiative, HRH Princess Lamia bint Majed Saud AlSaud, Secretary General of Alwaleed Philanthropies "Global" said, "In the face of a pandemic, we all have a part to play; when we protect our health, we protect the health of our communities. Throughout our 40-year history, we have stepped forward in times of crisis, by meeting the immediate and long-term needs of the world's most vulnerable. We are proud to be part of an initiative in the Ivory Coast that will empower vulnerable people with valuable resources to ultimately increase medical education and safeguard the health of present and future generations."
Didier Drogba, founder of the Didier Drogba Foundation, said, "In challenging times we need to support each other. By providing these vital resources, we are empowering families to sustain themselves and importantly ensure their health. I am proud to support Alwaleed Philanthropies "Global" and ICESCO in helping communities in the Ivory Coast."
Alwaleed Philanthropies "Global" and ICESCO are collaborating in a series of initiatives to empower the health sector and mitigate the economic effects of the pandemic across 10 African countries. This fund, part of a global campaign by Alwaleed Philanthropies "Global" to tackle Covid-19, will be used to build local capacity in the production of personal protective equipment (PPE) for the most vulnerable in society, as well as provide critical capital to support small and community businesses to survive potential economic fallout. The 10 countries involved are Sudan, Morocco, Burkina Faso, Chad, Mali, Nigeria, Mauritania, Niger, Senegal and Ivory Coast.
"We cannot emphasize enough the critical importance of this fund to help these countries stay afloat. Without such intervention, the private sector of these countries, of which 90-95% consists of small enterprises, will collapse, and would take decades to build up again. By working together, we can support these small enterprises, which will also support communities toward a more efficient and prosperous recovery. We truly appreciate this foresight by HRH Prince Alwaleed bin Talal, as Chairman of Alwaleed Philanthropies "Global"." said Dr. Salim Al-Malik, Director General of ICESCO.
For 4 decades, Alwaleed Philanthropies "Global" has supported and spent more than 4 billion dollars on social welfare and initiated more than 1000 projects in over +189 countries, managed by 10 Saudi female members, reaching more than 1 billion beneficiaries around the world, regardless of gender, race, or religion. Alwaleed Philanthropies "Global" collaborates with a range of philanthropic, governmental, and educational organizations to combat poverty, empower women and youth, develop communities, provide disaster relief and create cultural understanding through education. It seeks to build bridges for a more compassionate, tolerant, and accepting world.
About ICESCO
The Islamic World Educational, Scientific and Cultural Organization (ICESCO) is a specialized organization that operates under the support of the Organization of Islamic Cooperation and is concerned with fields of Education, Science, Culture and Communication in Islamic countries in order to support and strengthen relations among Member States. ICESCO's mission is to construct tomorrow's decision-makers, share expertise and institutional support and optimize development policies and systems of innovation and knowledge. The Organization's headquarters is located in Rabat, Morocco. https://www.icesco.org/