Women's Contributions to Civil Society in the Kingdom of Saudi Arabia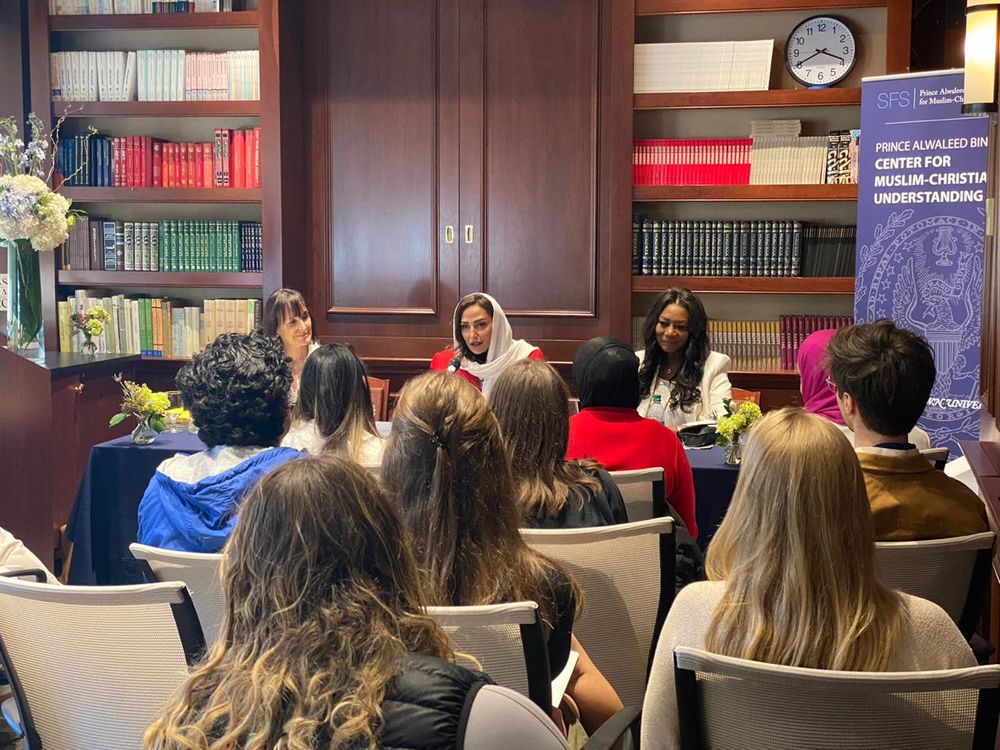 Alwaleed Philanthropies joins a conversation with Georgetown University's Alwaleed Center for Muslim-Christian Understanding
Georgetown University's Alwaleed Center for Muslim-Christian Understanding (ACMCU) welcomed HRH Princess Lamia Bint Majed Al Saud, Secretary General of Alwaleed Philanthropies, chaired by HRH Prince Alwaleed Bin Talal Al Saud, for a conversation on "Women's Contributions to Civil Society in the Kingdom of Saudi Arabia" on March 4, 2020. The session was joined by Abeer AlFouti, Executive Manager of Global Initiatives at Alwaleed Philanthropies. And as moderated by Professor Tamara Sonn, Director of ACMCU, at Georgetown University, Washington, DC.
The session addressed Georgetown students and was joined by several international and Saudi Arabia students studying in the U.S. and it touched upon several topics on women's contributions to civil society.
HRH Princess Lamia Bint Majed Al Saud stated: "We are truly devoted to the promotion of better mutual understanding between the Islamic World and the West, and have established six centers around the world for study and cultural bridging. For over 40 years, we have embodied a world without boundaries, a world that is more compassionate, tolerant and accepting. Our mission remains for these initiatives to continue to help in actively exchanging ideas, promoting intercultural and interfaith dialogue and better understanding through academia and creative learning."
In addition, Abeer AlFouti discussed how to be more innovative in cultural integration, stating, "We firmly believe in implementing change that generates significant outcomes. For example, Alwaleed Philanthropies donated $23 million – the largest contribution ever made by AP – to help construct the Louvre Museum's Islamic Arts Hall. Displaying the world's richest and most diverse collection of Islamic art, this was one of the most positive symbols, reinforcing understanding and greater integration between Western and Islamic cultures and civilizations."
ACMCU was established in 1993 as the Center for Muslim-Christian Understanding, History and International Affairs. In 2006 the Center was honoured to become the Alwaleed Bin Talal Center for Muslim-Christian Understanding with the generous endowment of Alwaleed Chairs in Religion and International Affairs, History of Islam and Muslim-Christian Relations, and Islamic Civilization.
For four decades Alwaleed Philanthropies has supported and spent more than $4 billion on social welfare and initiated over a thousand projects in nearly 200 countries, managed by ten Saudi women, reaching more than one billion beneficiaries around the world, regardless of gender, race, or religion. Alwaleed Philanthropies collaborates with a range of philanthropic, governmental, and educational organizations to combat poverty, empower women and youth, develop communities, provide disaster relief and create cultural understanding through education. It seeks to build bridges for a more compassionate, tolerant, and accepting world.