Alwaleed Philanthropies "Global" Collaborates with Scouts for SDGs to Raise Awareness of Sustainable Development Goals Among Young People Worldwide.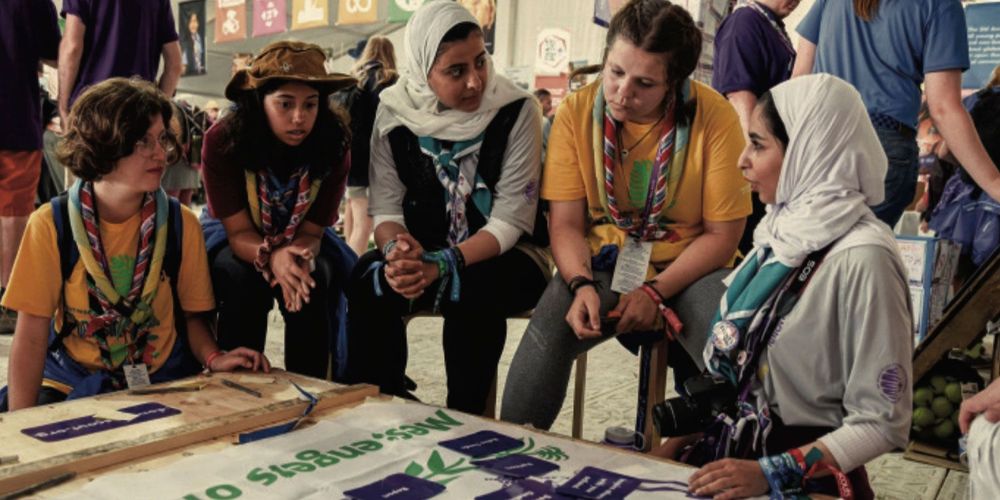 Beneficiaries
11.6 Million people
Targeting Range
Global with a focus on Africa & the Middle East
Scouts for SDGs aims to ensure young people are fully aware of the Sustainable Development Goals (SDGs) and motivate them to take action, whilst also equipping them with the knowledge and skills to take active roles in their local communities in leading these actions for positive change. Actually, this work is built on three blocks:
Firstly- Inspiring and motivating (54) million young women and men worldwide in (171) countries to work to improve their communities, gain and spread awareness of the SDGs and directly contribute to achieving the SDGs.
Secondly-Enabling National Scout Organisations worldwide to improve their delivery of quality Scouting through at least 200 capacity strengthening projects at national and local level in the Africa and Arab Scout Regions, to ultimately ensure that more young people are engaged in and take action for the SDGs.
Thirdly- Supporting young people to lead and deliver 2 million actions in their communities, equating to 500 million hours of dedicated service by Scouts and their partners, to actively contribute to the SDGs.
Developing communications campaigns and outreach activities, including but not limited to Scout education and training, raising awareness about the SDGs and the power of young people in implementing the Goals.
Promoting action towards the SDGs at world, regional and national Scouting events, online and in person, for example, as part of educational workshops, exchanges and other Scout activities.
Supporting the development of educational materials and activities to support learning about the SDGs.
Supporting National Scout Organisations manage and govern their operations more effectively.
Delivering high-quality training on leadership and the SDGs.
Empowered Scouts will be supported to take action on the SDGs though local and national projects and actions; they will also be inspired to share their actions and learnings to inspire others.
2021 Accomplishments
Inspire:
1- Inspired and engaged young people to take action as part of Scouts for SDGs:
Produced communications and promotional package of evergreen content for Scouts for SDGs, including promotional video, social media posts, visual graphics, stories of NSOs and key advocacy messages.
2- Promoted engagement for International Volunteer Day:
A message to 200,000 Scouts
Shared examples of Scouting's efforts to promote gender equality for the campaign on 16 days of activism to end gender-based violence.
3- Highlighted the impact of Scouts for SDGs:
Produced an end of year video and communications pieces and other activities throughout 2021, and encouraged Scouts to log their community projects on the SDG Hub.
4- Youth advocacy for the SDGs:
Trained and recruited 25 new Youth Representatives (11 for the global team and 4 for the Arab and 10 for the Africa Region) to be the face of WOSM's advocacy work and external representation.
Inducted the new Youth Reps to their new advocacy areas across 6 themes — Peace, Education, SDGs, Rights, Gender, and Environment.
5- Organized a webinar on child safeguarding policies:
The Office of the UN Special Representative participated on Violence against Children featuring a 17-year-old Scout from New Zealand who contributed to their Safe from Harm policy.
6- Scouts for SDGs Hub and digital engagement:
Added a range of new features and upgrades to the Scouts for SDGs digital hub 'Scouting's educational Better World Framework'.
7- Developed support materials for Messengers of Peace Educational Initiative with a focus on Dialogue for Peace:
Dialogue for Peace Facilitator Manual and Tool box for Facilitators, Dialogue for Peace Trainers Manual and Took box for Trainers.
8- Area of Peace and Community:
Live sessions were developed between mid-June and mid-July on the Messengers of Peace Facebook page in English, Spanish, Arab and French. These sessions covered five stories of community heroes who are taking action on period poverty; cancer relief action; native agricultural practices and entrepreneurship; environmental action to mitigate plastic pollution; and bullying prevention.
9- Promotion of Scouts for SDGs mobilization through the World Scout Conference and Youth Forum with 10 workshops for adult leaders in Arabic, French, English and Spanish.
10- Promotion of SDGs and community action for young people during JOTA-JOTI with 3 podcasts on Hear about the Sustainable Development Goals (SDGs), Youth Programme, Hear about youth in decision making.
11- In 2021 JOTA-JOTI (Jamboree on the Air and Jamboree on the Internet) engaged 4 million young people worldwide in a global online training event and conversation providing educational activities to demonstrate how to take action for the SDGs, and showcased actions by other young people to inspire increased impact.
Deliver:
Community Development Projects in the Africa and Arab Regions on sustainable development, addressing SDGs in local communities, are underway targeting multiple topics:
Arab Scout Region: Mental health program
Algeria: Change Makers program
Libya: Skills for Life program
Palestine: Serving the fasting Muslims in Al Aqsa Mosque in Jerusalem
Tunisia: Future Leaders program
Ghana, Guinea and Rwanda: Entrepreneurship training and Start Up projects
Benin, Botswana, Burkina Faso and Congo: Adolescence and Reproductive Health program
Ethiopia and Gambia: Gender Equality Training and Campaign
Senegal and Uganda: Earth Tribe — Recycling and Water Disposal program
The Following SDGs tackled through the 2021 Plan:
SDG 1 No Poverty;
SDG 2 Zero Hunger;
SDG 3 Good Health and Well-being;
SDG 4 Quality Education;
SDG 5 Gender Equality;
SDG 6 Clean Water and Sanitation;
SDG 10 Reduced Inequalities;
SDG 11 Sustainable Communities;
SDG 16 Peace, Justice and Strong Institutions;
SDG 17 Partnership for the Goals.
Scouts Success Story
I'm excited to be among 2000+ young undergraduates students across the world to be invited to #MCNMembers for 2021 - an invitation-only leadership program.
Over the next 4 months, I'll be part of a community of young leaders from across the world, learning what it means to be a social impact leader and honing my leadership skills.
My project is working towards attaining #sdg13 #climatcaution. The project is about recycling waste soft drink plastic bottles by making footstools.
I'm looking forward to interactive sessions of learning and shaping leadership skills in the achievement of sustainable development goals World Organization of the Scout Movement (WOSM).