Alwaleed Philanthropies "Global" & UNHCR Launch "Tweet for Heat" Campaign in Support of Syrian Refugees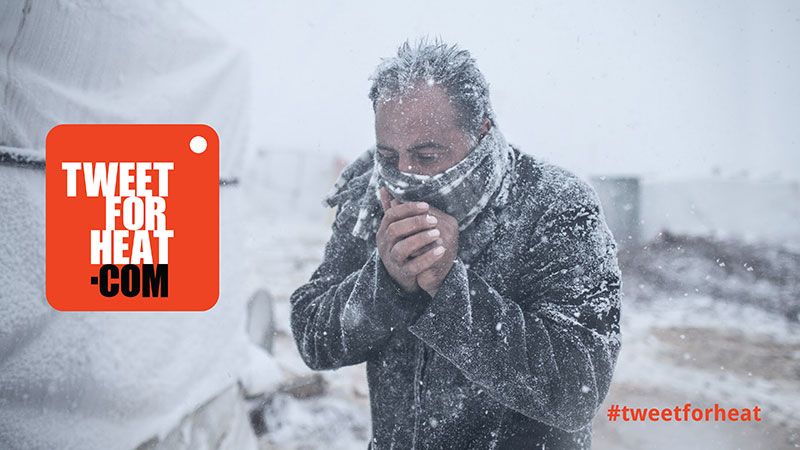 Humanitarian Initiative Calls for Urgent Global Action to Protect Refugees Against Harsh Winter Weather Conditions
The Alwaleed Philanthropies "Global" (AP), chaired by HRH Prince Alwaleed Bin Talal Bin Abdulaziz Alsaud, and the United Nations High Commissioner for Refugees (UNHCR), today launched an innovative digital campaign in an urgent call for the international community to support the efforts to protect displaced Syrians this winter. The "Tweet for Heat" campaign, sheds light on the life threatening weather conditions millions of refugees and internally displaced are facing amid dwindling resources and for many in fragile makeshift shelters. 
More than 8 million displaced Syrians will have to withstand another harsh winter temperatures dropping as low as -5º (C) across the Middle East and Europe. Over 4.6 million refugees, half of whom are children, are dispersed across three continents with temperatures as low as -10º (C) in search of warmth and safe havens. 
The "Tweet for Heat" campaign aims to provide urgent shelter and warm blankets to millions of refugees at risk of hypothermia. Temperatures are expected to reach record lows this winter in the Balkan Peninsula, Turkey, the eastern Mediterranean, Syria, Lebanon, Jordan, and other areas in Europe.  Children are especially at risk of freezing to death due to their slender bodies and inadequate protection from frigid temperatures and blizzards. Currently, the Syrian refugees' most urgent needs are blankets, clothes, heaters, stoves and waterproof tents. 
The "Tweet for Heat" campaign will provide members of the public with a firsthand account of twenty refugee families' difficult living conditions. By using heat-monitoring devices that automatically tweet changing temperatures, and by searching for the hashtag #TweetForHeat, social media users can witness the brutal temperatures endured by vulnerable refugee families in winter. The refugees' first-hand account of their journeys, struggles and hopes for the future will be captured, shared and continuously updated on the "Tweet for Heat" campaign website: tweetforheat.com
"The innovative Tweet for Heat campaign is calling on the global community to join Alwaleed Philanthropies "Global" and UNHCR in our urgent effort to help protect millions of refugees against severe, life-threatening winter weather conditions," said HRH Prince Alwaleed. 
The public is urged to use the hashtag: #TweetForHeat to help raise awareness about the plight of the refugees by re-tweeting the temperatures refugees face. They are also invited to visit the "Tweet for Heat" campaign website (Tweetforheat.com) where they can follow the refugees' compelling first-hand stories of their search for warmth and safe refuge this winter. 
"I would like to thank HRH Prince Alwaleed Bin Talal for leading this innovative initiative that will highlight the plight of displaced Syrians during this harsh winter. Many people are suffering terribly in the cold, but the available resources to help them are limited. This campaign will be crucial in raising awareness and providing much-needed support to tens of thousands of vulnerable families," said Mr Filippo Grandi, the High Commissioner of the United Nations High Commissioner for Refugees (UNHCR).
The Alwaleed Philanthropies "Global" have a long history of supporting refugees around the world in times of crisis. Alwaleed Philanthropies "Global" donated SR 1,500,000 for the relief of nearly 46,000 children and families both inside and outside of Syrian borders. This was done in cooperation with Nolabi Al-Nida, Regional Food Bank and Save the Children. The initiative was launched   in 2013 after sever winter conditions struck refugee camps in Lebanon and Jordan. The initiative provided humanitarian assistance in the form of food, medicine and clothing for families residing in the camps. In addition, all the necessary medical services were provided in order to prevent the spread of disease and epidemics. Since the beginning of the Syrian refugee exodus, the Syrian Refugees' Support Initiative at the Alwaleed Philanthropies "Global" has donated over SR 5,625,000 through strategic partnerships with some of the world's most trusted global aid organizations.
The Alwaleed Philanthropies "Global" support and initiate projects in 104 countries, regardless of gender, race or religion. We collaborate with a range of philanthropic, government and educational organizations to combat poverty, empower women and youth, develop communities, provide disaster relief and create cultural understanding through education. Together, we can build bridges for a more compassionate, tolerant and accepting world.
UNHCR, the UN Refugee Agency, established in December 1950, is mandated to lead and coordinate international action to protect refugees and resolve refugee problems worldwide. Its primary purpose is to safeguard the rights and well being of refugees. It strives to ensure that everyone can exercise the right to seek asylum and find safe refuge with the option to return home voluntarily, integrate locally or resettle in a third country. It also has a mandate to help stateless people and is often called on to help people displaced within their own countries. The agency, which has a staff of some 9,300 people in more than 123 countries, has helped tens of millions of people.