Alwaleed Philanthropies "Global" Celebrates the Completion of its Workshop in Partnership with World Scout Foundation & Saudi Scout Organization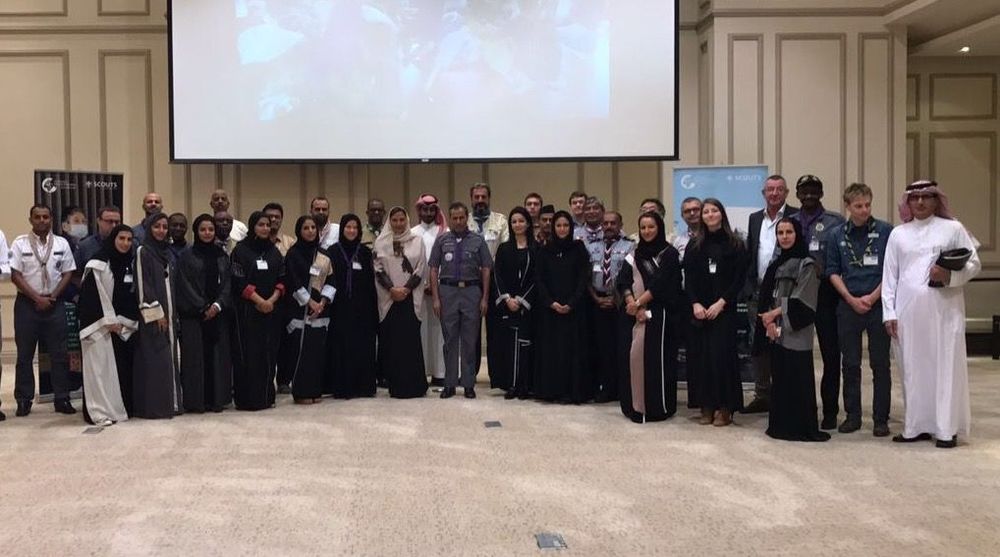 Alwaleed Philanthropies "Global" (AP), chaired by HRH Prince Alwaleed Bin Talal Bin Abdulaziz Alsaud, has announced conducting a 3-day workshop for disaster mitigation in collaboration with the World Scout Foundation, and the Saudi Scout Organization at the Holiday Inn (Izdihar) in Riyadh. The workshop aims to provide front-line responders with insight on reducing the impact of future disasters while enabling them to carry out their mandate in mitigation, relief and rehabilitation. 
One of the main objectives of the workshop is to provide local humanitarian organizations with the opportunity to share their knowledge and best practices in the field of humanitarian efforts with an international network of leading humanitarian organizations. Additionally, the workshop promotes partnerships amongst national and international organizations as well as supporting humanitarian organizations on a local level in vulnerable countries. The type of support provided includes periodic preparations and implementing disaster response guidelines. During the workshop, a preliminary set of guidelines were developed by experts in the field, along with assessing the success of initially drafted practices.  
"We are delighted to be one of the first foundations to step in and respond to crises in an era of unprecedented humanitarian disasters. Alwaleed Philanthropies "Global" works hand in hand with the local humanitarian organization, and a network of international scouts to help alleviate the suffering of the largest number of victims through rapid disaster preparedness and response," said HRH Princess Lamia bint Majed AlSaud, Alwaleed Philanthropies "Global"' Secretary General, and Member of the Board of Trustees. 
According to Dr. Abdullah Al-Fahad, Member of the World Scout Committee and Vice-President of the Saudi Scout Organization, the Saudi Scouts are considered the Kingdom's largest and most prominent values-based youth organization. Their devotion is a testimony of their loyalty to their nation and community, additional to their history of community-relief efforts. Dr. Al-Fahad commended the Kingdom's approach in encouraging the Scout movement, in which they offer a lending hand to the massive number of visitors during Pilgrimage (Hajj and Umrah) along with supporting the Messengers of Peace Program, a unique initiative to spread peace across communities. 
The Scouts' efforts are a true example of contributing to communities and impacting civilians on a small and large scale through their on-ground presence, according to John Paul Geoghegan, Director of the World Scout Foundation. He also added that their role in helping communities in major disasters in areas such as the Philippines, Indonesia, Haiti, Bosnia, as well as their efforts in rescuing refugees in Europe has been a remarkably unique experience. During the workshop, Mr. Geoghegan praised Alwaleed Philanthropies "Global" for adopting initiatives as such, in helping empower youth and local communities reach their full potential. He also commended Alwaleed Philanthropies "Global"' efforts for hosting and organizing the workshop which participants can further benefit from in contributing to finding solutions to alleviate human suffering caused by disasters. 
Despite existing efforts, the workshop lectures included remarks by David Berg, Director of Organization Development in the World Scout Foundation, where he addressed the importance of developing strategies and rehabilitation plans for local communities and responsible organizations to deal with disasters. 
The workshop was attended by the Regional Director of the Arab Scouts, Dr. Atef Abdulmajeed Mohammad Abdulrahman, Director of the Red Cross in Kenya, Mr. Abbas Gullet, Commissioner of leadership development for the Saudi Scouts Organization, Dr. Hamad Abdulrahman Al-Yahya, along with a number of representatives from humanitarian organizations including King Salman Center for Relief and Humanitarian Aids, Save the Children, the Humanitarian Leadership Academy, as well as the United Nations Development Programme. Attended from Alwaleed Philanthropies "Global" is HRH Princess Lamia bint Majed AlSaud, Secretary General, Ms. Nauf Rawaf, Executive Manager of the Global Initiatives, and Ms. Amal Al-Kathiri, Executive Manager of National Initiatives. 
For over 35 years, Alwaleed Philanthropies "Global" has supported and initiated projects in over 120 countries regardless of gender, race, or religion. Alwaleed Philanthropies "Global" collaborates with a range of philanthropic, governmental and educational organizations to combat poverty, empower women and youth, develop communities, provide disaster relief and create cultural understanding through education.