Qatar Presents Prince Alwaleed "Lifetime Achievement" Award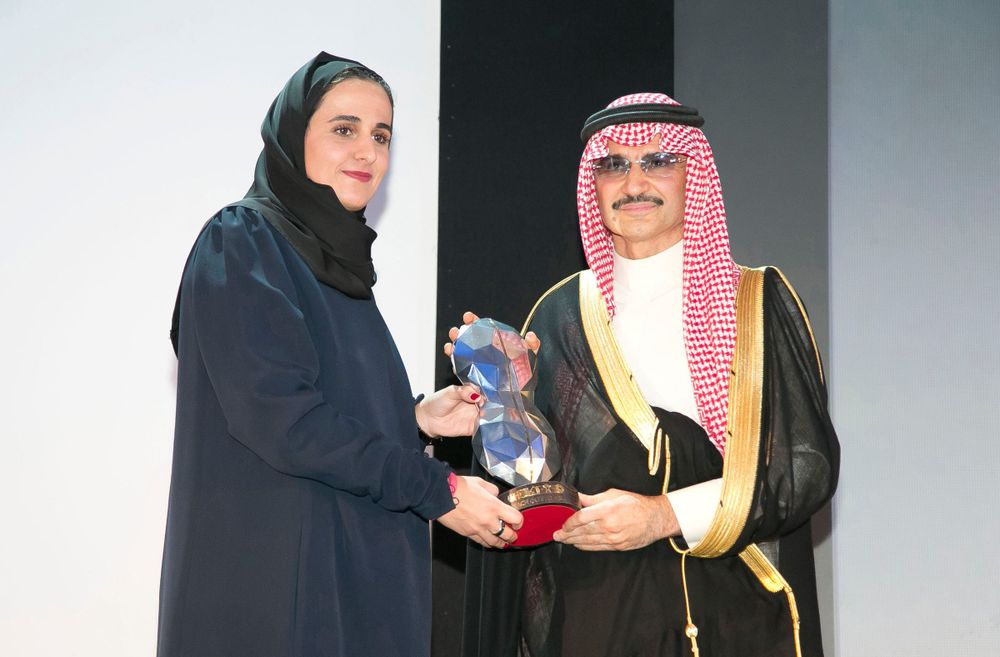 HRH Prince Alwaleed Bin Talal Bin Abdulaziz Alsaud, Chairman of Alwaleed Philanthropies "Global", received the "Lifetime Achievement" award, that was awarded by HH Sheikha Al Mayassa Bint Hamad Bin Khalifa Al Thani, Chairperson of Reach Out To Asia (ROTA), during the Charitable Gala dinner hosted by ROTA in Doha- Qatar at the Castle of Sheikh Ali Bin Abdullah Al Thani. Prince Alwaleed received the award in recognition of the devotion and sincerity wielded by His Highness in philanthropy and sustainable development on both global and regional scales.
During the event, Sheikha Al Mayassa commenced with a welcoming note highlighting ROTA's development objectives under Qatar Foundation. She emphasized the extent of ROTA's achievements in its relatively short period of time, which was awarded with the prestigious Global Social Responsibility Certificate after three years of outstanding performance.
Prince Alwaleed commented: "This award reflects the solid relationship between Kingdom Holding Company, Alwaleed Philanthropies "Global", and Qatar on both the business and philanthropic fronts. This has been developed with the support of HH Sheikh Hamad Bin Khalifa Al-Thani and HH Sheikh Tamim Bin Hamad Bin Khalifa Al Thani, Emir of The State of Qatar".
Prince Alwaleed was accompanied by a delegation that included Dr. Nahla Nasser Alanbar, Private Executive Assistant to HRH the Chairman, Ms. Abir A. Kaki, Secretary General of Alwaleed Philanthropies "Global", Dr. Jihad Aoukal, Private Physician to HRH the Chairman, Ms. Hassna Al Turki, Department Head, Travel & External Affairs, Mr. Hani Agha, Senior Manager Travel & External Affairs and Mr. Fahad Bin Saad Bin Nafel, Executive Assistant to HRH the Chairman.
The Qataris officials included Sheikh Hamad Bin Jassim Bin Jaber Bin Muhammad Al Thani, Former Prime Minister of Qatar and Former Minister of Foreign Affairs, H.E Sheikh Ahmed Bin Jassim Al Thani Minister of Economy and Commerce, H.E Sheikh Jassim Bin Abdulaziz Al Thani, H.E Sheikha Dr. Aisha Bint Faleh Al Thani, Reach out to Asia Board Member, H.E Sheikh Mohammed Bin Abdulla Al Thani, ROTA Ambassador, and H.E Dr. Mohammed Saleh Alsadda Minister of Energy and Industry.
"Reach out to Asia" is a Qatari-based non-profit organization under the auspices of the Qatar Foundation. The organization empowers local communities by providing access to quality primary and secondary education to children that have been affected by crisis across Asia.
Alwaleed Philanthropies "Global" are involved in a wide spectrum of humanitarian activities in 90 countries. Their focus areas have been established around strategic initiatives, ranging from Disaster Relief and Community Development, to Women and Youth Empowerment, as well as Promoting Intercultural Understanding.