HRH Princess Lamia Bint Majid AlSaud Receives the First of its Kind "Change Maker Award" in London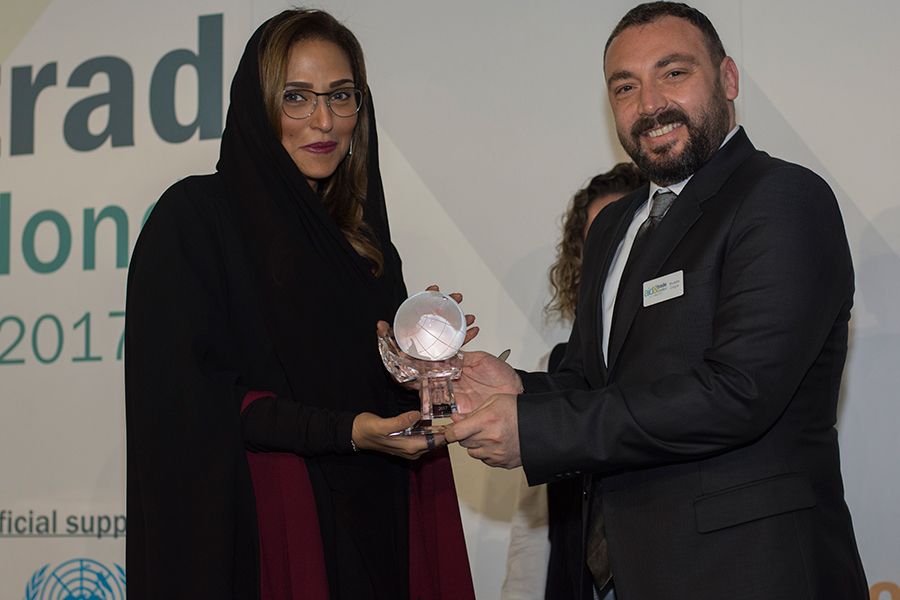 HRH Princess Lamia Bint Majid AlSaud, Secretary General of Alwaleed Philanthropies "Global" Global (Registration no. 333- Lebanon), chaired by HRH Prince Alwaleed Bin Talal Bin Abdulaziz AlSaud, receives the "Change Maker Award" from the Director and Organizer Feraye Ozfescioglu at the Aid & Trade Conference in London on May 11, 2017 in recognition of HRH Princess Lamia's humanitarian and philanthropic efforts worldwide 
During the Aid & Trade Conference, HRH Princess Lamia Bint Majid AlSaud delivered a high-level keynote on the role of women empowerment in changing the world. Princess Lamia stressed the importance of harnessing the talents and skills of women and young people everywhere to build a better tomorrow. Through our partnerships, we aim to provide the necessary tools and know-how to enable women and youth to reach their dreams, and ensure that all women are getting full access to education, employment, and intellectual freedom. 
The Aid & Trade Conference brings together the global aid and development as well as emergency community to learn, network, supply, and source. It attracts everyone from major NGOs and global policy makers. Alwaleed Philanthropies "Global" is amongst the first to respond when natural disasters such as earthquakes, tsunamis, seasonal floods, hurricanes, and dangerous soil drifts strike. The organization takes prompt action by communicating with all reliable parties in the damaged areas such as international rescue organizations and local embassies to aid victims, help alleviate the suffering, and provide financial support to those in need. 
For over 37 years, Alwaleed Philanthropies "Global" has supported and initiated projects in over 124 countries regardless of gender, race or religion. It collaborates with a range of philanthropic, governmental, non-governmental and educational organizations to combat poverty, empower women and youth, develop communities, provide disaster relief and create cultural understanding through education. Together with its partners, it helps build bridges for a more compassionate, tolerant and accepting world.