$4 Million From Alwaleed Philanthropies "Global" to Support Poverty Alleviation in Palestine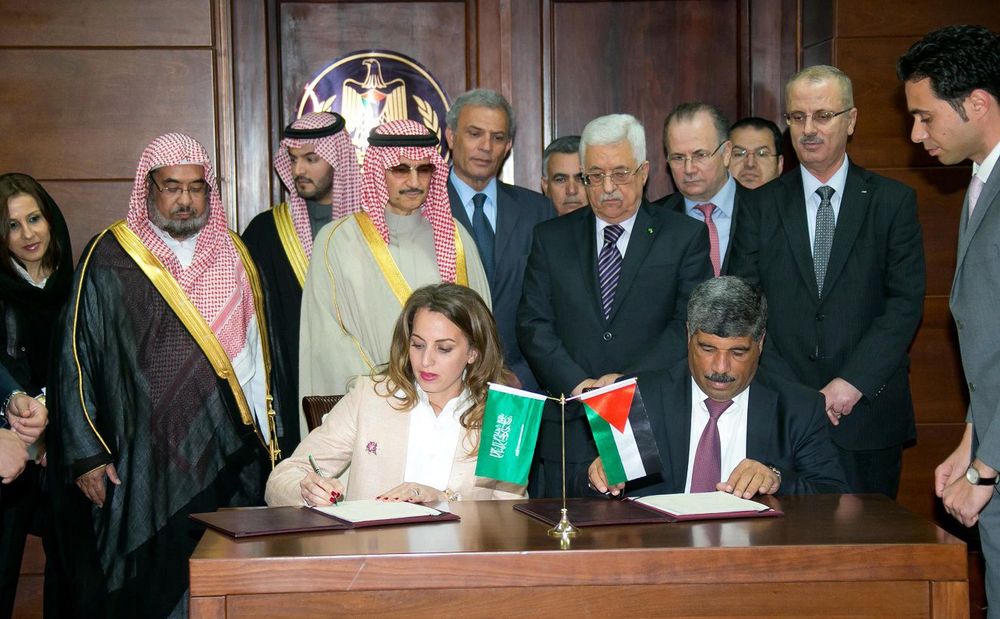 On Tuesday 4th March, 2014, in the presence of HE. Mr. Mahmoud Abbas, President of State of Palestine and HRH Prince Alwaleed Bin Talal Bin Abdulaziz Alsaud, Alwaleed Philanthropies "Global" signed a memorandum of understanding "MOU" with the Ministry of Agriculture in Ramallah, Palestine, to support poverty alleviation in Palestine with $4 million.
The MOU was signed by HE Eng. Walid Assaf, Minister of Agriculture of the State of Palestine and Ms. Abir Kaki, Secretary-General of Alwaleed Philanthropies "Global". The signing ceremony was also attended by a delegation from Alwaleed Philanthropies "Global" that included Dr. Sheikh Ali Al Nashwan, Member of the Board of Trustees and Religious Advisor to HRH the Chairman and Ms. Nauf Al-Rawaf, Executive Manager of International Projects.
Alwaleed Philanthropies "Global" announced its support to alleviate poverty, create employment opportunities and increase household income through funding agricultural projects that generate income for all Palestinian communities in need. The project is overseen by the Ministry of Agriculture and in partnership with local councils, cooperative societies, farmers, and NGOs.
The agricultural sector is one of the most important economic sectors capable of providing jobs, in an aim to alleviate poverty and food insecurity. The program also includes training in technical areas and project management in all areas of Palestine. The number of individuals benefiting directly from the program is 12,000 beneficiaries.
Upon Prince Alwaleed's arrival to Palestine, His Highness was received by Dr. Muhammad Mustafa, Deputy Prime Minister and Chairman of Palestine Investment Fund. During his visit, Prince Alwaleed paid his respects at Yasser Arafat's gravesite.
Moreover, Prince Alwaleed met with President Abbas at the Presidential Palace, where His Excellency bestowed upon HRH the "The Medal of Honor" the highest honor granted in the State of Palestine. Also, President Abbas hosted a luncheon in honor of Prince Alwaleed. Furthermore, the two discussed the economic status and development in Palestine also the suffering of the Palestinian people. HRH expressed his continuous support to the people in need in Palestine. In conclusion, Prince Alwaleed thanked the President for the warm hospitality.
The Prince was accompanied by a delegation from HRH's Private Office that included Dr. Nahla Nasser Alanbar, Private Executive Assistant to HRH the chairman, Ms. Hassna Alturki, Department Head Travel & External Affairs, Mr. Hani Agha, Senior Manager Travel & External Affairs and Mr. Fahad Bin Saad Bin Nafel, Executive Assistant to HRH the Chairman.
The delegation from Kingdom Holding Company (KHC) that is chaired by Prince Alwaleed included Ms. Heba Fatani, Senior Executive Manager, Corporate Communications Department.
In 2013, Prince Alwaleed received at his office in Riyadh HE Eng. Walid Assaf, and an accompanying delegation that included Dr. Nasser Aljaghoub, Under Secretary of Palestine's Agriculture Ministry. In 2011, Prince Alwaleed received Mr. Abdulraheem Mahmoud Jamoos, Member of Palestinian National Council.
In 2000, Prince Alwaleed was awarded "The Bethlehem 2000 Medal" by Palestinian Authority President for his continuous support to the Palestinian cause.
Prince Alwaleed also maintains strong relations with Palestine through his humanitarian support through Alwaleed Philanthropies "Global". Prince Alwaleed had made many contributions to Palestine, that include:
Renovation of Al Omari Mosque
1996, Support for projects in Jerusalem
1998, Donation to the Right to Live Society for the Alwaleed Bin Talal Center for Down Syndrome (Gaza)
2000, Donation to provide salaries for Palestinian workers
2002, Donation of clothes to Palestinians
2002, The purchase of 100 cars to help Palestinians
2002, Support for some of the wounded Palestinians
2003, Support for the Palestine Center for Human Perseverance (Fata)
2003, Provided assistance to the Palestinian Embassy in the Kingdom for the purchase of their headquarters in Jeddah
2004, Donation to help pay rent for the Embassy
2004, Support for Al Quds University
2005, Support for The Carter Center to assess the credibility and conduct of the pre-electoral period and election day, examine problem areas and offer recommendations for reforms to support the democratic processes in the Palestinian Territories
2007, Donation to the United Nations Relief and Works Agency (UNRWA) for the Medical Training Program
Palestinian Aid
2007, Support for the Right to Live Society's Prince Alwaleed Bin Talal Center for Down Syndrome
2008, Donation to the Organization of Islamic Cooperation and UNRWA during the Gaza crisis of 2008
1998, Presented the Palestinian Airlines with a Boeing 727
2008, Emergency support for 41 families affected by the flash floods in Gaza through UNRWA
2008, Assistance to the people of Gaza through HRH Prince Talal Bin Abdulaziz Alsaud
2009, Response to King Abdullah's campaign to assist the people of Gaza
2011, Support for a Saudi female to climb Mount Kilimanjaro benefitting the Palestinian Children Relief Fund
2013, WAMY for Gaza rapid aid
2013, OIC for Gaza rapid aid
2013, Covering part of the operational cost for Alwaleed Bin Talal Center for Down Syndrome in Gaza Strip for five years
Alwaleed Philanthropies "Global" are involved in a wide spectrum of humanitarian activities in 90 countries. Their focus areas have been established around strategic initiatives, ranging from Disaster Relief and Community Development, to Women and Youth Empowerment, as well as Promoting Intercultural Understanding.