Board of Alwaleed Philanthropies Celebrates its Reach of More Than 976 Million Beneficiaries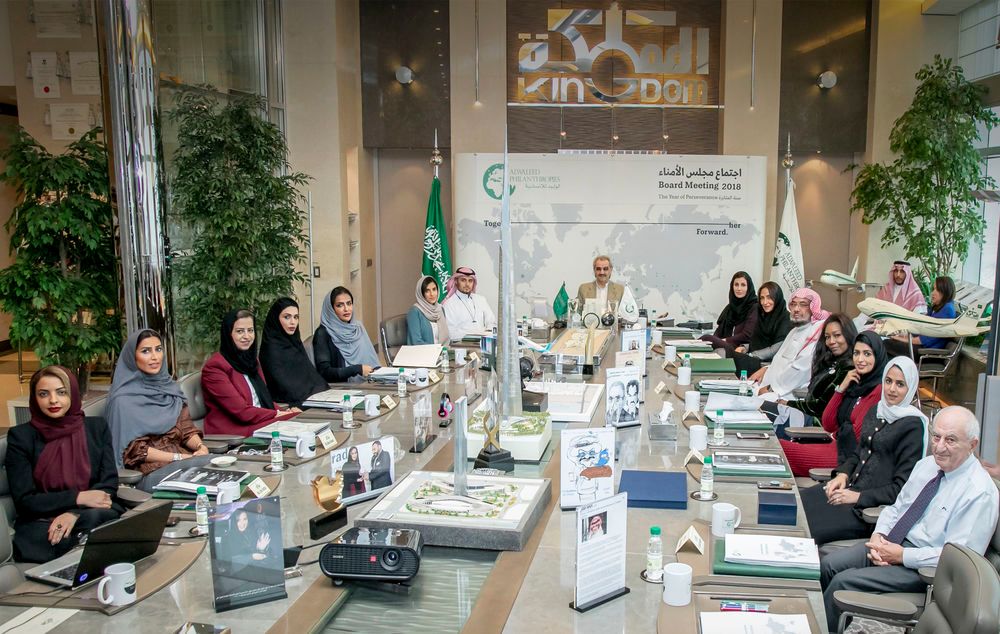 Board of Trustees of Alwaleed Philanthropies (AP), chaired by HRH Prince Alwaleed Bin Talal Bin Abdulaziz AlSaud, for Alwaleed Philanthropies- Saudi Arabia (Registration no. 77 Saudi) and Alwaleed Philanthropies – Global (Registration no. 333 Lebanon) held its third meeting of the year at the foundation's headquarters in Riyadh. In attendencewere: HRH Prince Khaled Bin Alwaleed Bin Talal Bin Abdulaziz AlSaud, First Deputy Chairman of the Board, HRH Princess Reem Bint Alwaleed Bin Talal Bin Abdulaziz AlSaud, Second Deputy Chairperson of the Board, HRH Princess Lamia bint Majed AlSaud, Secretary General of Alwaleed Philanthropies, Ms. Nada AlSugair Chief Executive Officer of HRH's Private Office and the Treasurer of Alwaleed Philanthropies, Dr. Sheikh Ali Al Nashwan, Religious Advisor to His Highness.
In his opening remarks, His Royal Highness Prince Alwaleed first welcomed all the members and Alwaleed Philanthropies representatives, and then focused on the importance of continuing to empower Saudi women in several fields, most importantly in striving toward equal opportunity for them in society and in the work place.
Following the opening, the Bored Members discussed the items on the agenda, along with reviewing the Local, Global projects, achievements and the media coverage for 2018. One of the noteworthy achievements is reaching out to 976 million beneficiaries in more than 189 countries around the world. HRH Princess Lamia highlighted and presented the Foundation's projects and their impact on future performance.
Ms. Amal Al Kathiri, Executive Manager for the National Initiatives, and Mrs. Salha Alzalai, Assistant Manager, highlighted their Department's initiatives that included:
The number of beneficiaries from Housing and Cars Project has been presented.
A signed partnership with Aljazirah Vehicles Agencies to join Karim, and Harakeyah to provide 200 cars annually to support people with disabilities.
The first installment of the 100 vehicles were delivered as part of the foundation's pledge to Careem to support and empower Saudi women to work as Captainahs in Careem platform.
Alwaleed Philanthropies collaborated with the general authority of statistics in a first initiative of its kind to measure women's participation in social development
In partnership with the World Scout Foundation, the foundation signed a first initiative of its kind the 2030 GCC Scout Project.
In partnership with King Abdulaziz Center for National Dialogue, phase two of the Ambassadors of Peaceful Dialogue initiative has been presented. In addition, the 100 students that were sponsored for the second year in a row to attend the University of Edinburgh in Scotland, in order to provide them with practical application of the program.
Afterward, Mrs. Abeer Al Fouti, Executive Manager of the International Initiatives, and Mrs. Rana Alturaifi Assistant Manager, presented the department's achievements that include:
The Global Polio Eradication Initiative in partnership with the Bill & Melinda Gates Foundation that aims to improve the health of individuals all over the world. Where 183 million children have been vaccinated so far.
The Measles project in partnership with UNICEF seeks to prevent measles by providing vaccines in different regions. Where more than 7 million children have been vaccinated so far.
The Breakthrough Energy Ventures (BEV) in collaboration with Bill Gates and members of the Breakthrough Energy Coalition in their commitment to invest in energy technologies. Where 7 radical energy startups have been established. • The initiative to improve the housing environment for 10,000 families in partnership with Misr El-Kheir Foundation to provide 10,000 housing units.
In partnership with the UN Women, the foundation joined "Making Every Woman and Girl Count" initiative, which contributes to strengthening the monitoring and implementation of data on gender equality around the world.
Alwaleed Philanthropies supported the Islamic Art Museum project at the Pergamon Museum in Berlin, Germany, with 9 million Euros to support the reconstruction and expansion of the department, develop exhibitions, and expand cultural education.
Finally, Ms. Reem Abukhayal, Assistant Manager of Media & Public Relations Department explained the impact of working towards awareness campaigns in 2018 and highlighted the campaigns that have reached more than 192 Million people around the world. Some of the most prominent social media campaigns were Hero Next to Hero, Unveiled Journey, and the foundation's journey at the United Nation General Assembly.
For over 39 years, Alwaleed Philanthropies has supported and spent more than 4 billion dollars on social welfare, and initiated more than 1000 projects in over 189 countries, managed by 10 Saudi female members, reaching more than 976 million beneficiaries around the world, regardless of gender, race, or religion. Alwaleed Philanthropies collaborates with a range of philanthropic, governmental, and educational organizations to combat poverty, empower women and youth, develop communities, provide disaster relief and create cultural understanding through education. It seeks to build bridges for a more compassionate, tolerant, and accepting world.