Alwaleed Philanthropies "Global" donates 16,000,000 € castle to Italian Red Cross for use as center to host volunteers, and puts female economic empowerment center stage at MED Women's Forum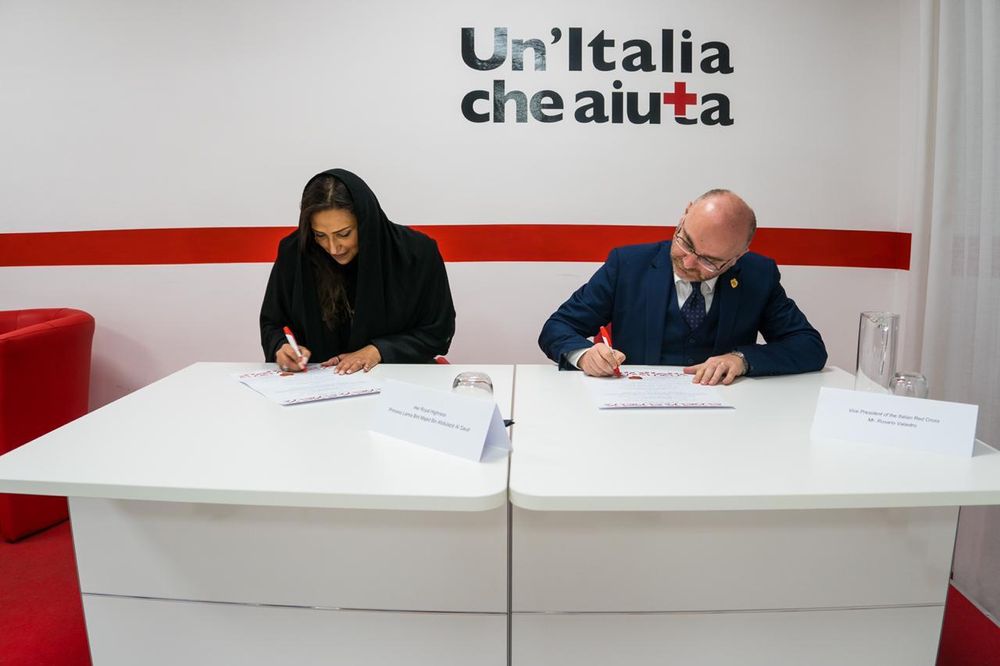 HRH Princess Lamia bint Majed AlSaud, Secretary General of the Foundation, among the keynote speakers

HRH Princess Lamia bint Majed AlSaud, Secretary General and member of the Board of Trustees at Alwaleed Philanthropies "Global", chaired by HRH Prince Alwaleed bin Talal bin Abdulaziz AlSaud, participated in a panel at the MED Women's Forum, held ahead of the Rome 2018 Mediterranean Dialogues. Gathering together 50 women from all over the Mediterranean region, from large and international organizations, the forum focuses on the role of female economic empowerment as a tool for growth.

In its participation at MED Women's Forum, Alwaleed Philanthropies "Global" revisits its core commitment to economic empowerment for women and youth and its alignment with the United Nations' Sustainable Development Goal number five, which calls on all signatory countries to act together and end all forms of discrimination against women everywhere. Female participation in the workplace helps make the economic system more competitive, and helps to eradicate poverty.

HRH Princess Lamia bint Majed AlSaud stated: "During the forum, we present several examples, for mutual interest and sharing of best practice, of how Alwaleed Philanthropies "Global" is carrying out its mission to empower women. One example is our donation of 100 vehicles to Careem, the Middle East's home-grown version of the ride-sharing app, Uber, the day after the ban on women driving ended in Saudi Arabia. With an estimated 1.5 million working women in Saudi Arabia, all unable to drive or use public transport, and reliant on drivers or on male family members for transport, the situation was taking its toll on our nation's economy.

"Another example we draw attention to is our work with Waeya Legal, a local initiative that aims to educate women and youth in Saudi Arabia on their legal rights. We also provide support and training for women entering the job market in sectors such as journalism and communications, as well as arts and crafts through our training and support of female Saudi artisans. We also stand today and reaffirm our commitment to the UN Women's public-private initiative; "Making Every Woman and Girl Count," which redresses gender imbalance in the production, accessibility and use of gender statistics around the world. A key barrier to achieving Sustainable Development Goal 5 is the lack of available data to make it possible to monitor and measure the progress of the goal. Lack of data is often used as a pretext for lack of action. If it is not counted, it does not count."

Alwaleed Philanthropies "Global"' presence in Italy for the Forum was also marked by the announcement of its donation to the Italian Red Cross of one of the most refined and important residences in Europe, owned in the past by several noble families; the Castle of Castagneto Po, worth 16,000,000 €. The IRC will now manage the enhancements needed to the 11th century prestigious estate to turn it into a training, education and meeting center. The center is expected to host, over time, the 160,000 volunteers of the IRC as well as the 12 million volunteers coming from around the world, to ensure they are ready and prepared to work in the service of the largest worldwide humanitarian network; the International Red Cross and Red Crescent Movement.

For over 4 decades, Alwaleed Philanthropies "Global" has supported and spent more than 4 billion dollars on social welfare, and initiated more than 1000 projects in over 164 countries, managed by 10 Saudi female members, reaching more than 533 million beneficiaries around the world, regardless of gender, race, or religion. Alwaleed Philanthropies "Global" collaborates with a range of philanthropic, governmental, and educational organizations to combat poverty, empower women and youth, develop communities, provide disaster relief and create cultural understanding through education. It seeks to build bridges for a more compassionate, tolerant, and accepting world.