Alwaleed Philanthropies "Global" & PEFE Celebrate the Conclusion of Training 25 Graduates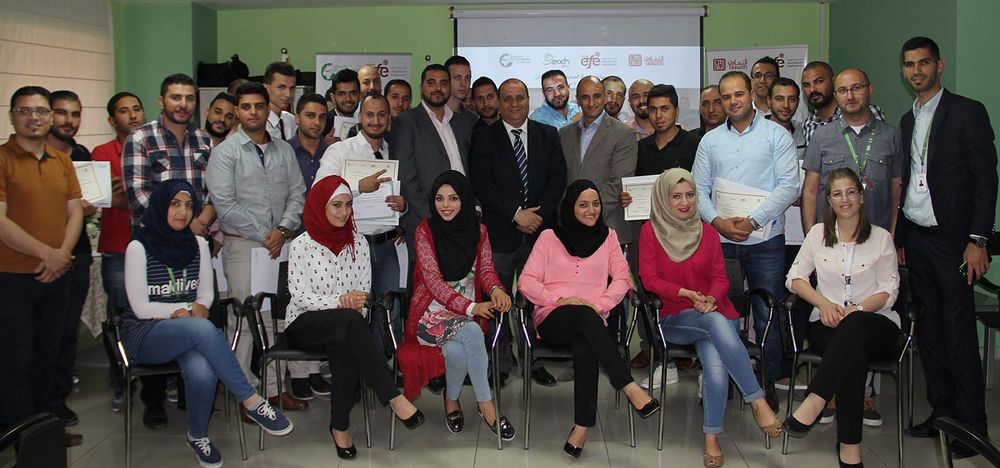 Alwaleed Philanthropies "Global" (AP), chaired by HRH Prince Alwaleed Bin Talal Bin Abdulaziz AlSaud, celebrates the conclusion of the Palestine Education for Employment (PEFE) and Reach for Telecommunication Services "Customer Care" training for 25 job-seeking graduates. The program aims to qualify graduates, and provide them with job opportunities at Reach.
The training was conducted in partnership with Welfare Association – Taawon, and was supported by Alwaleed Philanthropies "Global". The training included two components; the first one, "Workplace Success" was implemented by PEFE, and included topics such as communication, CV - writing, preparing for job interviews, teamwork, leadership skills, and other skills needed by graduates in the job market. The second component of the training "Customer Care" which was provided by Reach, covered topics such as communication over the phone, providing services via the phone, and how to deal with subscribers, in addition to introducing trainees to the services provided by Reach and the programs it uses.
Mr. Rami Shamshoum, General Manager of Reach, welcomed the audience and congratulated the graduates for completing the training, and noted that this is the first step in their careers, and that it will teach them a lot, and they will gain new skills and experiences. He also assured that Reach will employ all the trainees who pass the test.
For his part, PEFE's General Manager Mr Saro Nakashian expressed the institutions' pride of its partnership with Reach, for it being a pioneer in introducing new telecommunication techniques to the Palestinian market, assuring PEFE's interest in establishing partnerships with the private sector, so the organization keep pace with the changing needs of the labor market. He also stressed PEFE's trust Palestinian youth potential.
It is important to note that the training was implemented in cooperation with Taawon, which is a leading independent Palestinian non-profit civil society organization, working in Palestine and Palestinian refugee camps in Lebanon. Taawon in Arabic, translates to working together to do good which lies at the core of the organization's culture, and governs its everyday operations in development. Since its establishment in 1983, Taawon invested over $600 million in seven major programs: education, community development, youth and women empowerment, orphan support, culture, restoration of ancient cities, and its flagship project The Palestinian Museum.
The program was supported by Alwaleed Philanthropies "Global". For over 35 years, Alwaleed Philanthropies "Global" has supported and initiated projects in over 120 countries regardless of gender, race, or religion. Alwaleed Philanthropies "Global" collaborates with a range of philanthropic, governmental and educational organizations to combat poverty, empower women and youth, develop communities, provide disaster relief and create cultural understanding through education.