Alwaleed Philanthropies "Global" & Misr ElKheir Celebrate the Release of Debt Prisoners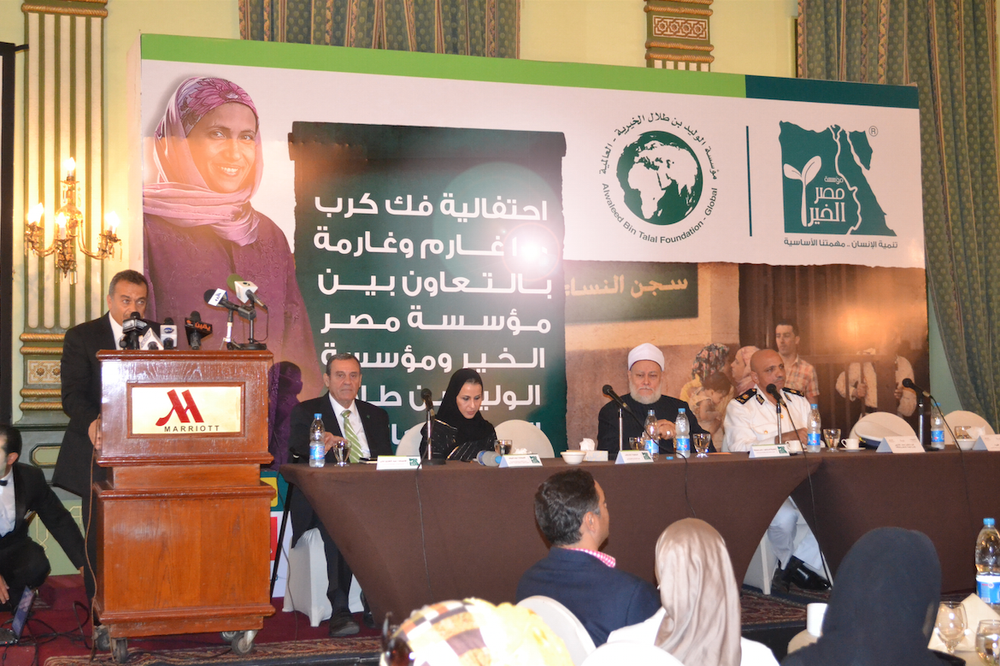 Misr ElKheir Foundation in collaboration with Alwaleed Philanthropies "Global", chaired by HRH Prince Alwaleed Bin Talal Bin Abdul Aziz Al Saud, organized a conference to celebrate the release of hundreds of prisoners in debt recently. The conference was attended by Her Excellency Ghada Wali, Minister of Social Solidarity, and Dr. Ali Gomaa, former Grand Mufti of Egypt and Chairman of Board of Trustees of Misr ElKheir Foundation. Alwaleed Philanthropies "Global" was represented by HRH Princess Lamia Bint Majid Al Saud, Executive Manager of Public Relations and Media, Ms. Nauf Al Rawaf, Executive Manager of International Projects, and Ms. Nora Al Malki, General Manager of Saudi Department. 
Ms. Nauf Al Rawaf, confirmed that the initiative of releasing the detainees ensured their safe return to their families during The Holy Month of Ramadan and reunite them with their families is aligned with Prince Alwaleed's and the Foundation's direction to strengthen the bonds of cohesion and solidarity between individuals and institutions in society.
Mr. Mahjoub Mohsen, member of the Board and Treasurer of Misr ElKheir Foundation, expressed that the Foundation's Debtors Program offers a successful model that contributes to the development of the country. He added, "Misr ElKheir is the first civil institution to whom the Ministry of Interior granted access to all prisons in Egypt. There has been great collaboration with the Ministry, the Attorney General and his staff who witnessed what has been achieved, and facilitated the process and removed all obstacles preventing us from relieving the distress of those in debt prisoners."
Furthermore, Suhair Awad – Debtors' Project Manager, confirmed that the Foundation provided both financial and moral support for the released prisoners after their release to facilitate their integration into the society as effective and productive members through supporting small businesses that generate monthly income to grant them a dignified life for themselves, their families, their surrounding environment and the community at large. Alwaleed Philanthropies "Global" adopted the approach of providing knowledge and skills that revive the Egyptian crafts industry. We have started in Apis Alexandria, where there is a great number of debtors and industries nearing extinction especially the hand-made carpet industry, for which we have established a carpet factory, currently employing more than 220 families. Furthermore, we started a rehabilitation program for prisoners prior to their release so that once released, they have a craft they can work with. We have established a handmade textile-manufacturing factory in Minya prison where prisoners are able to earn income for themselves and their families during the time of their sentence.
Alwaleed Philanthropies "Global" are involved in a wide spectrum of humanitarian activities in 90 countries. Their focus areas have been established around strategic initiatives, ranging from Disaster Relief and Community Development, to Women and Youth Empowerment, as well as Promoting Intercultural Understanding.