Alwaleed Philanthropies and Barça Foundation launch a sports program to promote mental health and social inclusion among refugees in Greece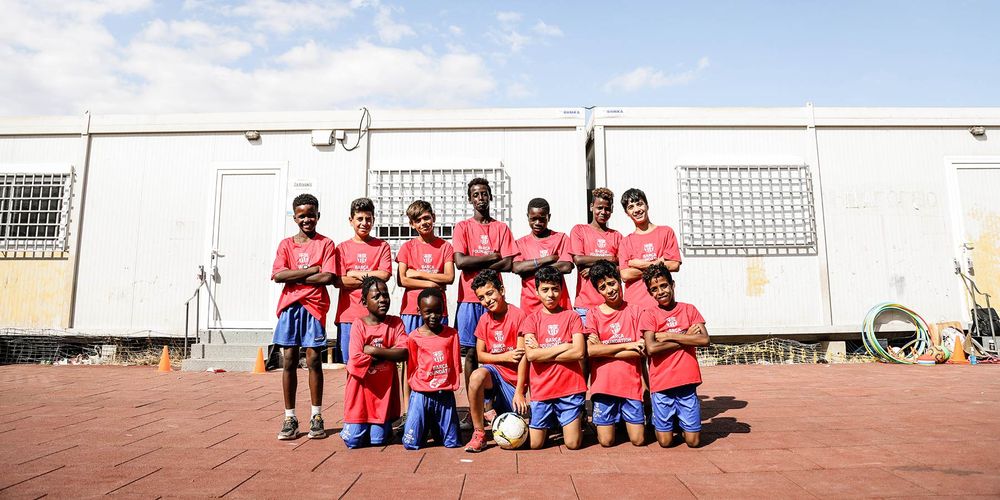 Location
6 refugee camps in Greece
In line with our firm approach to supporting humanity all over the world, our Foundation, in cooperation with Barcelona Foundation, launched a sports program to support refugees across 6 camps in Greece, and promote their mental health and social inclusion.
This project targets 517 people and aims to create child and youth-friendly spaces where they can meet, socialize, exchange, and learn collectively, through specially designed sports activities. The program offers opportunities for youth to enhance dialogue so they can express themselves, build their self-esteem, and learn to take responsibility and control of their actions.
Improving emotional and physical wellbeing among refugee children and youth in Greece.
Fostering cultural understanding, dialogue, and friendships to promote social cohesion.
Improving the living standards of women's artisanship and preserving the carpet weaving traditions.
2021 Accomplishments
Our program with Barça Foundation worked on Sports, Life skills, and Values for Refugee Children in Greece as the following:
The program worked conducted training seminars for (45) coaches and volunteers in Barça Foundation.
The program distributed clothes and equipment to the participants.
Delivered the FutbolNet methodology as central to the sports, life skills, and values program.
The program delivered a series of special activities and excursions for refugee children such as World Kindness Day, World Cerebral Palsy Day, World Peace Day, and World First Aid Day.
Abbas Khawari Success Story- Barca Foundation
Abbas Khawari, is 11 years old boy from Afghanistan who lives in Eleonas refugee camp. The coach shares her thoughts about Abbas:
"I can confidently say that he has shown a significant improvement in his behavior since the beginning of our FutbolNet program, in September of 2021. Initially, he exhibited outbursts of anger with aggressive behavior, even at the expense of other children in the group, when he was losing or felt he was not doing something well and created disturbances in the flow of the lesson.
Through persistence and mostly one-on-one conversations, I tried to boost his confidence and make him feel secure, that he would not be criticized by anyone of the coaches or the team.
Nowadays his improvement is dramatic, as it is obvious that he really enjoys the activities, laughs, says thank you when he likes something and manages with great success the defeat or the conflict with one of his teammates."