Princess Lamia AlSaud: Women Represent 50% of the Saudi Community hence Empowering Women is a must to Drive Economic Growth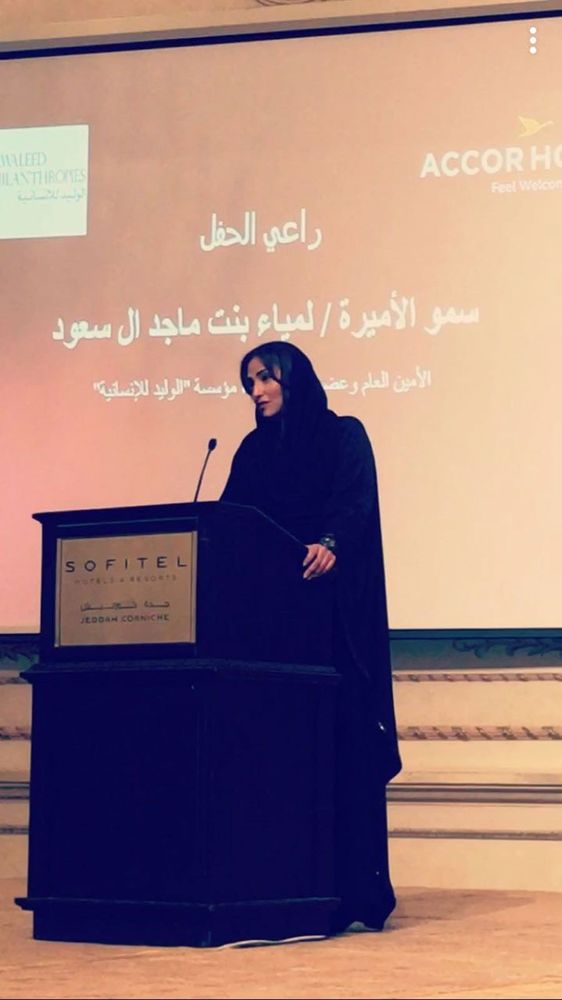 HRH Princess Lamia Bint Majid AlSaud, Secretary General of Alwaleed Philanthropies, chaired by HRH Prince Alwaleed Bin Talal Bin Abdulaziz AlSaud, attends the Second Edition of Women Empowerment and Integration Forum in Jeddah as the main sponsor of the event, organized by Accor Hotels KSA in association with TEDEX. The conference aimed to position itself as an intellectual hub and leader on topics related to diversity, inclusion and, more importantly to contribute to supporting women's integration within Accor Hotels' organization, as well in Saudi society. The forum recognized Alwaleed Philanthropies as a successful model for change and innovation from the perspective of a dynamic all-female team, which is in line with Alwaleed Philanthropies' goals to inspire Saudi women and youth to do the most good in the most effective way possible from within their community.
Princess Lamia discussed the role of women in the Kingdom and their capacity to shape our future. HRH stated, "we know that women empowerment and integration in the workforce is one of the most effective ways of driving social and economic progress, and this goal influences a large part of our work." HRH also gave a synopsis of Alwaleed Philanthropies' scope promoting local initiatives and highlighted the foundation's main area of focus this year: empowering women and youths. HRH also added that the foundation's new strategy is a critical part of how the foundation's initiatives will help support this vision, as set by the Custodian of the two Holy Mosques, King Salman bin Abdulaziz AlSaud and Crown Prince Mohamed bin Salman bin Abdulaziz AlSaud.
Alwaleed Philanthropies' Secretary General, closing remarks revolved around her personal experience and the importance of empowering women and youths in the Kingdom. HRH also added, "this is an extremely important moment in the work of Alwaleed Philanthropies, because it allows us both to look at how far we have come in doing good and at our aspirations for a better world. As many as 1.5 million women worked in Saudi Arabia in 2015-a number that is only set to increase when driving will allow them easier access to the workplace. This supports our country's target of getting 30% of women active in the workforce by 2030. Driven by the vision of His Royal Highness Prince Alwaleed Bin Talal Bin Abdulaziz AlSaud, has always been a strong supporter of women's rights, integration into the workplace and their right to drive."
The Saudi Women Leadership/Women Empowerment and Integration Forum provides young generation talents and inspires them to seek their highest level of professional development, by providing them with information, strategies, insights and perspectives on leadership.
The Forum collaborated with TEDXAlhamraaWomen, Ministry of Labour, General Commission for Tourism and Antiquities (SCTA) in Mecca Al Mukarramah, Human Resources Development Fund, University of Business and Technology (UBT), Dar Al-Hekma University and Jeddah International College. The Forum, held at Sofitel Jeddah Corniche aims to shed light on the achievements of women and youths in the Middle East.
Other attendees from Alwaleed Philanthropies included Ms. Amal Alkathiri, Executive Manager-Local Initiatives and Mr. Salah Oumoudden-SVP Operations and Managing Director of Accor Hotels. Among the Forum's attendees were dignitaries, in addition to 300-female attendees from universities, business schools, local authorities, famous social celebrities as well as notable associations in Jeddah.
For over 37 years, Alwaleed Philanthropies has supported and initiated projects in over 164 countries regardless of gender, race, or religion. We collaborate with a range of philanthropic, government, and educational organizations to combat poverty, empower women and youth, develop communities, provide disaster relief and create cultural understanding through education. Together, we can build bridges for a more compassionate, tolerant, and accepting world.