Alwaleed Philanthropies "Global" Receives Henrietta H. Fore UNICEF's Executive Director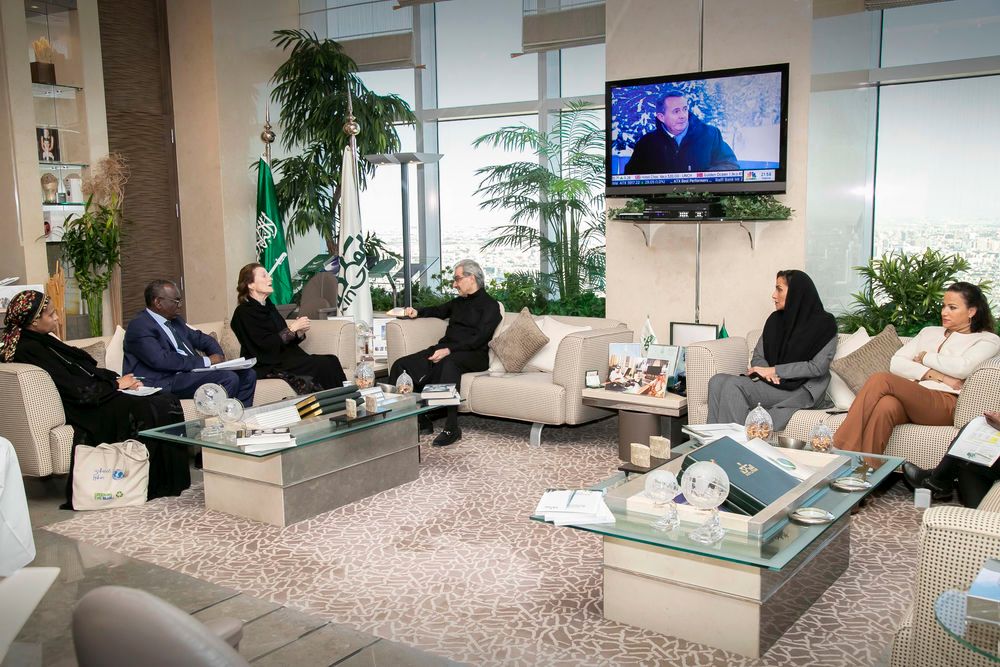 HRH Prince Alwaleed Bin Talal Bin Abdulaziz Alsaud, Chairman of Alwaleed Philanthropies "Global", receives Henrietta H. Fore, UNICEF Executive Director on February 12, in HRH's office at the Kingdom Tower in Riyadh.
The meeting was attended by members of Alwaleed Philanthropies "Global", HRH Princess Lamia Bint Majed Alsaud, Secretary General, Mrs. Abeer AlFouti, Executive Manager of the Global Initiatives. Present from HRH Prince Alwaleed Bin Talal's Private Office were: Mr. Ziad Alomair, Executive Assistant to HRH, Ms. Hassna Alturki, Senior Executive Manager of International Relations. And from the UNICEF representative were: Ms. Hannan Sulieman, Director and Chief of Staff, Mr. Eltayeb Adam, UNICEF Gulf Representative.
HRH Prince Alwaleed Bin Tala and Henrietta Fore have discussed social and humanitarian topics, including their vision in empowering youth. Furthermore, Henrietta Fore expressed her gratitude to HRH's donation through Alwaleed Philanthropies "Global"' contribution with US$50 million in the Measles & Rubella Initiative to protect millions of children from these diseases through safe and effective vaccines. Where million of children have been vaccinated around the world.
For over 39 years, Alwaleed Philanthropies "Global" has supported and spent more than 4 billion dollars on social welfare, and initiated more than 1000 projects in over 189 countries, managed by 10 Saudi female members, reaching more than 976 million beneficiaries around the world, regardless of gender, race, or religion. Alwaleed Philanthropies "Global" collaborates with a range of philanthropic, governmental, and educational organizations to combat poverty, empower women and youth, develop communities, provide disaster relief and create cultural understanding through education. It seeks to build bridges for a more compassionate, tolerant, and accepting world.