Alwaleed Philanthropies - Board of Trustees Meeting - 23/06/2014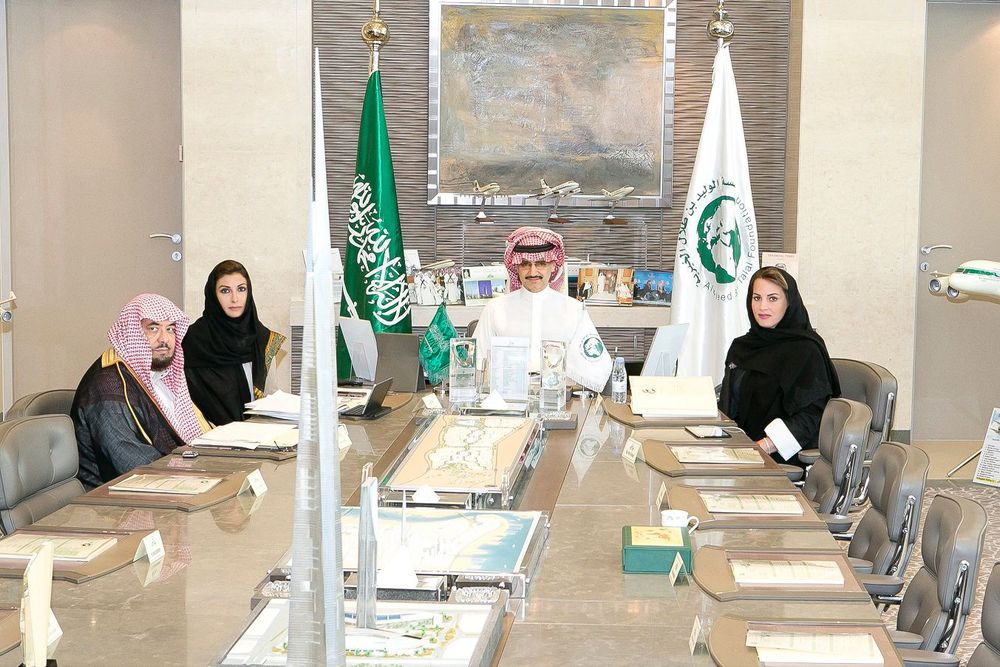 Alwaleed Philanthropies held the Board of Trustees & Managerial Board meeting, which was headed by HRH Prince Alwaleed Bin Talal Bin Abdulaziz Alsaud, Chairman of the Board of Trustees of Alwaleed Philanthropies in its office in Riyadh. The meeting was attended by members of the Board including Ms. Nada Al Sugair, Executive Director Finance and Administration, Mrs. Abir Kaki, Secretary General of Alwaleed Philanthropies and Dr. Sheikh Ali Al Nashwan, Religious Advisor to HRH the Chairman.
The agenda of discussions focused on the current projects of Alwaleed Philanthropies for the first half of 2014 and their impact on society. The meeting focused on future strategic plans and how the Foundations can support and help the largest number of people possible, and how to connect with organizations that can help achieve these goals. The Board of Trustees discussed the positive outcome of the projects the Foundations have in place from social development projects, to responding and aiding victims of natural disasters, continuous support for refugees around the world, women's empowerment as well as social and cultural initiatives.
Ms. Nora Al Malki Executive Manager of Development Projects gave a presentation regarding the Developmental Projects along with Ms. AlAnoud AlMohamadi, Executive Manager of Social Projects of the Alwaleed Philanthropies. Ms. Nouf Al Rawaf, the Executive Manager of Global Initiatives along with Ms. Mona Shihab, the Executive Manager of Intercultural Initiatives gave a presentation of future projects of their department. Princess Lamia bint Majid Al Saud gave a presentation of the new direction of the Media and Communications department and its local and global media coverage. From the support services team, Ms. Amal Al Garafi, Operations Manager, Ms. Sahar Al Saleh, IT Manager, and Ms. Reem Seraj, Administrative and Office Manager gave a presentation on the technical and financial aspects of the Foundations.
Alwaleed Philanthropies is involved in a wide spectrum of humanitarian and philanthropic activities in 90 countries. Their main focus areas have been established around strategic initiatives, ranging from Disaster Relief and Community Development, to Women and Youth Empowerment, as well as Promoting Intercultural Understanding.